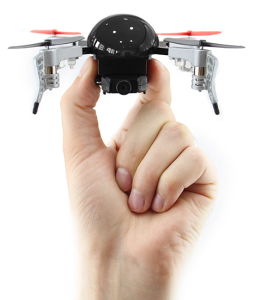 Within the last year the applications of Drone and Micro Drone technology have increased tremendously. The latest to hit the news was Swiss Post in cooperation with Swiss World Cargo indicating that they had begun testing parcel deliveries by unmanned drones. How far Drone technology will extend into the consumer world will be interesting.
Perhaps in the near future, in addition to attending classes by teleconference, kids will be sending their science projects by drones directly to their teachers.
The team at Extreme Fliers is hoping to help facilitate the drone consumer evolution with the release of the Micro Drone 3.0. At only 56g in weight and 50mm (in height) the Micro Drone 3.0 is small enough to fit into the palm of your hand.
The Micro Drone 3.0 comes with a professional 2.4 Ghz Remote Control which allows the pilot to fly it up to 300 Feet at a speed of 45 MPH. The sensors on the Micro Drone 3.0 work together beautifully to provide amazing stable flight. The flight options allows for auto-leveling, inverted flying, sensor assisted flying.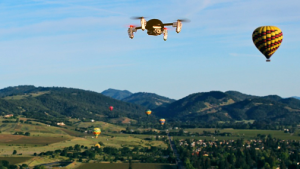 You can connect the to Micro Drone 3.0 your smart (IOS or Android) phone and record or stream video in 720 x 1280 HD format.
The battery life of the Micro Drone 3.0 is up to 8 minutes which might be a concern to some. Don't worry, if you lose track of time, the early warming system will let you know when there is less than 30 seconds of remaining flight time.
So Gizmo Readers, if you are like me and you are excited in this wonderful Micro Drone technology. Giddy up and help support the online crowdfunding campaign.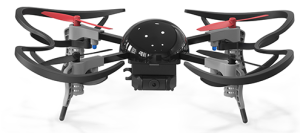 Features and Specifications
Dimensions: 50mm Height x 145mm diameter
Rotor Dimensions: 55mm diameter
Weight: 56g (71g with camera)
Speed: 45 MPH
Connectivity: 802.11 WiFi
App: Available for IOS and Android Smart phones
Video:

720 x 1280 HD at 30 FPS
Live Streaming
Video Recording onto the onboard Micro SD memory card
Format: AVI with MJPG codec

Flight:

Auto-Leveling
Inverted Flying
Range up to 300 Feet / ~91m

Battery:

Quick Connect battery
450mAh Lithium Cell
Flight time: Up to 8 minutes
Recharge time: Up to 1 hour

Professional 2.4 Ghz Remote Control
Status: seeking Crowdfunding via Indiegogo
For more information or to acquire the: Micro Drone 3.0
About Team Extreme
Extreme Fliers is a small group of inventors, engineers and drone enthusiasts