Distinctly elegant in style, Sennheiser will be unleashing the MOMENTUM In-Ear Black Chrome headphones as part of its award winning MOMENTUM line at the upcoming IFA.
Inspired by people who want to enhance their acoustic pleasures without compromise,the MOMENTUM In-Ear Black Chrome headphones are ergonomically engineered to provide the user with a comfortable feeling. Sennheiser knows that no two ears are alike, and provides the user with four different sizes of ear adapters for that personalized fit.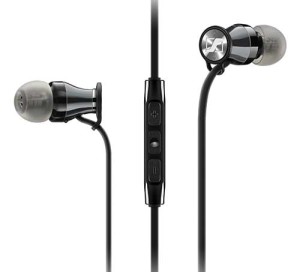 The Sennheiser MOMENTUM In-Ear Black Chrome are designed with excellent attenuation of ambient noise which distinguishes it from its competition. . Beautifully crafted from the highest quality materials, the ear-canal phones feature class-leading proprietary transducer technology that delivers the acclaimed MOMENTUM sound performance in the smallest, most compact form.
Built with an elliptical cable to keep it tangle-free and a three-button in-line remote with an integrated mic ensures that you can utilize these earbuds for both pleasure and business.
Sennheiser has once again found the secret of how to merge fashion, innovation with technology and elegance.
Technical Data and Specifications
Dimensions: 4.6 x 1.8 x 6.9 inches
Color: black, chrome
Weight: 16 g
Compatibility: Apple iOS or Android and Windows smart devices
Devices: Phone/iPad/iPod, Samsung Galaxy™, LG™, HTC™, Sony™, Other devices
Cable Length: 1.3 m
Microphone sensitivity: 44 dB V/Pa
Frequency response (Mic): 100 – 10,000 Hz
Frequency response (Headphones): 15Hz – 22000Hz
For more information or to acquire the: Sennheiser MOMENTUM In-Ear Black Chrome
About Sennheiser
Audio specialist Sennheiser is one of the world's leading manufacturers of headphones, microphones and wireless transmission systems. Based in Wedemark near Hanover, Germany, Sennheiser operates its own production facilities in Germany, Ireland and the USA and is active in more than 50 countries.