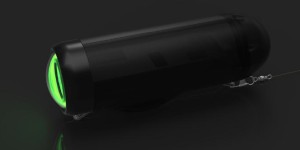 Technology has truly revolutionized sports and has provided spectators with amazing high definition angles never seen before.
The latest for sports in consumer electronics is the GoFish Extreme Action-Adventure Camera for Fishing. This device will enable you to capture the thrills of your water action from the view of the fish. Designed to sit on the fishing line GoFish can be be used for three different fishing styles; Trolling, Casting, Bottom Fishing.
The GoFish action camera shoots in true 1080p HD at 30fps with a 170 degree wide angle lens. GoFish is very easy to attach to a fishing line. There are two ends to the camera. The back end will be attached to the casting line and the front end to your leader line. You can either tie the lines straight to the camera or tie your line to a snap and use the snap to connect to the camera. You can connect this camera to your (Android or IOS) smart phone by simply downloading the free app. Then enable Wi-Fi on your phone and connect to the GoFish camera. GoFish emits its own WiFi signal. When you leave the range your phone will disconnect. When the camera comes back into range of your phone, it picks up on the WiFi signal and reconnects to GoFish .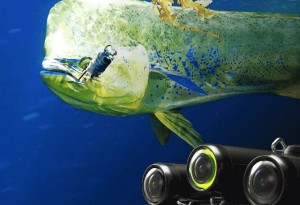 You can tell that this device was designed by real sports fisherman as there are a few features that only a fisherman could think of:
Compact, lightweight, durable and water proof up to 150 meters deep the GoFish action camera lasts up to three hours of battery life.
The camera is built with a stabilization fin that will stop the camera from spinning when casting.
Tweet about the big catch that is so sweet. Social Media integration will allow you to share videos on Facebook, Instagram and Twitter
If you are like me and would love to get your hands on the GoFish Extreme Action-Adventure camera for Fishing, simply head on to their Kickstarter page and sign up to support this endeavor. With this cool gadget it will be great to finally show my friends and family a video of the big one that didn't get away.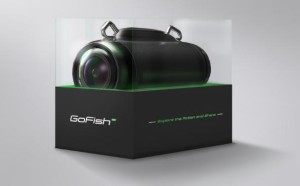 Specifications
Video: 1080p color video
Lens: 170 degree wide angle lens
Connectivity: HDMI, WiFi
Battery: Li-Ion
Battery life: Up to 4 hours
App: Available on Android and IOS stores
Features

Night vision
Waterproof: Tested to work to 150 meters
Microphone: built in mic set to capture the sounds
Media: Up to 32 Gig on external Micro SD card
Social Network integration: Facebook, Twitter, Instagram etc

Status: available for pre-order for $115 on Kickstarter
Shipping date: Expected to be released in Q1 2016.
For more information or to acquire the: GoFish Extreme Action-Adventure Camera for Fishing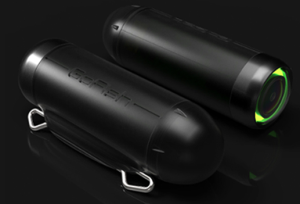 About GoFish Cam
GoFish Cam is a new, patent pending, action-adventure technology coming soon to fishermen and women around the world. Designed specifically for the fishing industry, the GoFish Cam provides anglers with an opportunity to capture and share their underwater fishing experience. The high-definition camera securely attaches to the fishing line and films the underwater perspective of the sport. Armed with cutting-edge technology, the GoFish Cam mobile app allows users to edit short video clips to share all the excitement with their friends on social media.