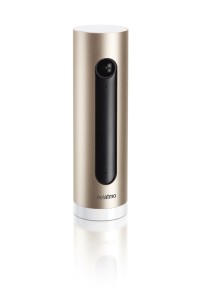 Fundamental to the trend of smart homes is home security. Netatmo is contributing key building blocks to the complete smart home solution. The latest is the Netatmo Welcome Home camera with face recognition. This comprehensive solution provides consumers with a way to protect their household remotely without compromising their privacy.
In addition to facial recognition this sleek and modern anodized aluminum 4MP camera, features full HD 1080p videos in a 130 degree birds eye field of view. It also has night vision, a live video feed with audio and motion detection.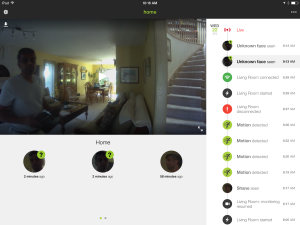 Although you can securely access the camera from your IOS, Android or web app, the Netatmo Welcome does not store the photos or videos on the cloud. Instead to ensure that its customers' privacy is maintained events and recordings are stored securely (and encrypted) on the local SD card.
Setting up the Netatmo Welcome is very easy.  The toughest part is trying to determine where to place the camera.  Netatmo recommends to place the camera indoors, at a distance between 1m to 5 m (6 feet to 16 feet) facing your entrance.  You will need to also ensure that it is close to a plug (as there is no built in battery).  For first time configuration you will need to connect the Welcome to your PC or mac via a USB cable (included).  Network, identification and other configuration steps are provided on the screen and are very easy to understand.
In order to configure your smart device, you will have to simply download the (IOS or Android) free app and synch it up with the Welcome via Bluetooth.
The Welcome will learn and begin to recognize faces.  You can configure time zones for when you are in and out and can let this smart camera know when and who to alert and ignore. There are also a variety of customizable privacy settings for each recognizable face user profile including identify and record.
In addition to addressing privacy concerns I love that Netatmo does not force its customers to purchase a monitoring subscription or cloud storage fees.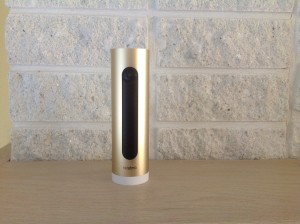 Specifications
Dimensions: 45x45x155 mm / 1.8×1.8×6 inches
Video sensor: full HD 1080p, 4MP
Video Quality: 1,920 x 1,080
Field of View: 130 degrees
Storage: Local via SD Card up to 32GB (88GB card included)
App: FREE APP via IOS, Android & Web
Connectivity:

Ethernet RJ-45 port: 10/100 Mbits
Wireless: Wi-Fi 802.11 b/g/n (2.4G)

Features:

Night Vision
Motion detection
Facial Recognition
For more information or to acquire the: Netatmo Welcome Home camera with face recognition
 About Netatmo
Founded in 2011, Netatmo is a French company specializing in connected objects. Their four products have been awarded by the "CES Innovations Design and Engineering Awards" in 2013, 2014 and 2015