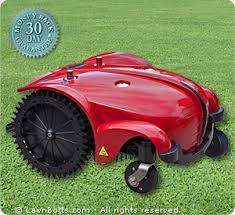 Talking with my neighbor over the weekend he had relayed his frustration in trying to get his son to cut his large lawn.  And unfortunately when his son finally cut the grass it was badly cut.
For the lawn cutting challenged individuals such as my neighbor. A cross between R2-D2 with a green thumb, the LawnBott LB200EL(+) Robotic Mowers will meticulously cut your lawn during the day or while you sleep.
Running on a battery which means no pollution and zero emissions, this smart robot has Adaptive Automatic Programming which means it learns as it mows your grass. Don't let the technology of this Gizmo fool you into thinking this mower cannot tackle tough conditions.  The LawnBott LB200EL(+) can manage up to 33,000 square feet of lawn (for the LB200EL or 38,000 sq.ft. for the LB200EL+) for various terrains.  It also works on extreme hills with up to 25-degree slopes.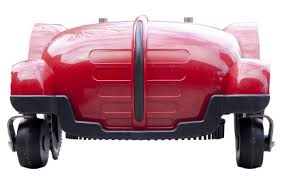 Unlike my neighbor's son, LawnBott will run up to 6 hours on one charge and can be programmed to cut your lawn at any time of the day or night. The near silent Motor-to-wheel technology is very quiet and will provide you the option of cutting your lawn at night without anyone in the neighborhood knowing you are doing it.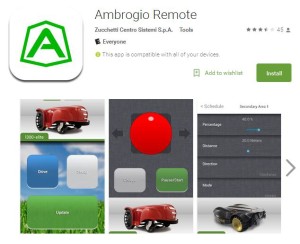 The LawnBott  Ambrogio Remote app allows you to control your lawn mower from your IOS or Android smart phone.
And by chance if you are away while LawnBott is mowing your lawn, the optional SMS feature allows the mower to sends notifications and alerts directly to your cell phone.
Incoming TEXT from LawnBott .. Finished mowing your Lawn
There are a few very cool features I love about this device.
It has an inbuilt silent GPS tracker that can be activated when needed.  This is a great anti-theft feature.
LawnBott will self analyze and detect when its (Lithium Ion) Battery is low and will automatically return to the docking station to recharge.
If by chance it starts to rain while it is mowing LawnBott also has a smart rain sensor that will automatically stop the mower and return the mower to its docking station.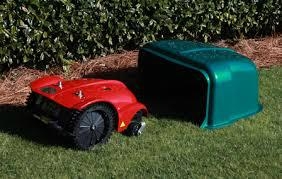 More reliable than your neighbor's son LawnBott is a great device that will have your yard looking like a professional did it.
Specifications
Mower Size: (L x W x H) 22 x 16 x 10 inches
Weight with Battery 35 pounds (LB200EL+) or 32 pounds (LB200EL)
Lithium Battery Ion 13 Ah (LB200EL+) or Ion 6.9 Ah (LB200EL)
Charging Time 4.5 hours (LB200EL+) or 3 hours (LB200EL)
Auto Recharge Yes
Auto Programming Yes
Rain Sensor: Yes
Drive System: 2 WD
Bluetooth App Board Yes
Remote Control Optional (via LawnBott App on smartphone devices)
App OS: Available for Apple and Android devices
SMS: Optional (Sends text notification – up to two numbers)
Cutting Features:

Coverage Grass 38,000 sq.ft. (LB200EL+) or 33,000 sq.ft. (LB200EL)
Cutting Width 12 inches
Cutting Height 0.75 – 3 inches
Cutting Speed 100 feet per minute
Hill Capability 25 degrees
For more information or to acquire the: LawnBott LB200EL Robotic Lawn Mower