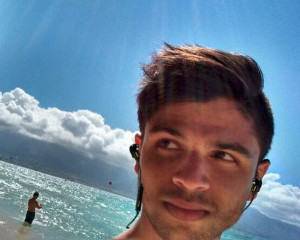 The success of any workout, depends on motivation,  determination and constant feedback.    Jabra hopes to exceed your expectations and unleash your inner fitness beast with the Jabra Sport Pulse Wireless Earbuds.
Jabra Pulse is a wireless Bluetooth headphone that is marketed as sweat proof and water proof. These headphones are compatible with IOS and Android devices. A number of features can be controlled through the headphone switch among them: volume, turning the Bluetooth on and off, advancing and pausing music.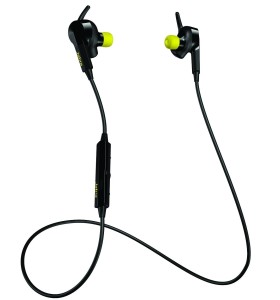 Strengths:
The controls on the Jabra Sport Pulse Wireless Earbuds are very intuitive and can be easily accessed while you are on your run, bike or workout studio. There is a control on the right ear which can be tapped to get current workout statistics, such as distance and average heart beat.
Jabra monitors a number of workout parameters, among them: heart beat, calories, and distance, while piping in Dolby sound. The Jabra "kit" includes a variety of ear bud pieces, and outer ear pulse detectors that are a variety of sizes.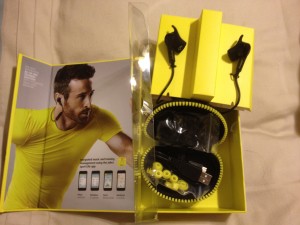 The Jabra Sport Pulse Wireless Earbuds paired easily with the IOS (Apple 4s and 5s) IPhones,  Macbook Air and the Android phones. A variety of workouts and workout parameters can be monitored and tracked through the Jabra Sport Life App (available for IOS and Android phones)
The Jabra Sport Pulse Wireless Earbuds' battery life is about 4-4.5 hours. (The battery life can be monitored through the app.).
Would love to see added:
Although marketed as sweat proof, the Jabra Earbuds tended to slip out of my ears during strenuous exercise, and thus disabling its ability to detect the heart beat and other workout parameters. (There is a voice "coach" who lets you know that your heart beat is not detected (probably because you're already dead, or too embarrassed to admit that you've overdone/underdone your workout)).
For those who just want the basic ON/OFF and "skip track" control, the headset control was a little challenging while trying to workout. (YES, there is an owner's manual that comes with the package, but if you have to read the instructions to figure out the various combinations and permutations of the controller, then it's way too complicated to remember during intense workouts).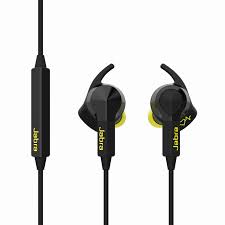 Bottom Line:
It's nice to have wireless headphones that can monitor and coach you through a workout (even if it is telling you that you are not working out as hard as you should be!). If you're not too picky about the sound, and are good about reading and memorizing the owner's manual, these earphones are a nice addition to your workout. The Jabra Sport Life App helps track your progress, and guilt you into staying on target with your fitness goals.
The Jabra Sport Pulse Wireless Earbuds do more than play music.  Jabra  has provided consumers with a high tech coach that will motivate, provide feedback and help them exceed their health and fitness goals.
Specifications and Features:
Dimensions: H 2.1 x W 0.9 x D 1 in
Weight: 0.56 oz
Style: In the ear
Ear Cushion Type:  Medium (M), Small (S), Large (L) sized ear gels
Battery:

Battery Type: Lithium Ion battery
Talk Time: Up to 5 hours
Battery Charging: Via USB (included)

Microphone Type: 1 x Omni Directional/noise filter
Speakers: 2x Hifi Frequency response speakers
Voice language:  German, French, English
Wireless Connectivity: Bluetooth version 4
App: IOS and Android Jabra SportLife
For more information on the Jabra Sport Pulse Wireless Earbuds
About  Jabra
Jabra is a global producer of innovative headset and speakerphone solutions. We enable effortless communication for mobile users, office-based and contact center employees in all parts of the world. Jabra's products harness this technology and enable their users to work, live and play on their own terms. Always connected, always on and always ahead of the game.
About Leanne

Leanne is a sports fanatic who has participated in many sports including soccer, gymnastics, swimming, track and field, yoga and jujitsu.  Having completed several professional coaching licenses for soccer in the US and Canada and with over 40 years experience , she knows what goes into developing elite athletes.  She is passionate about fitness technology and provides feedback as a guest blogger for New Gizmo Blog.