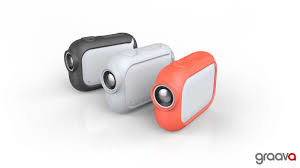 Looking at the top weekly videos on Youtube one cannot help to comment that you can't do something dangerous or stupid these days without filming and sharing it online.
Take for example this week's Amazing top video is that of a skate boarder reproducing the Super Mario game on a skate board. Unfortunately in order for the average person to product this cool video it would take more time inside a room editing the video than outside having fun making it.
One of the biggest misnomers of Action Videos is that in order to produce a great video, you need to have a background in video editing.  Our friends at Graava are hoping to dispel this myth with the introduction of their ultra cool smart Action Camera. Capable of transforming hours of mundane video in to magnificent moments, the Graava Action Camera automatically edits your videos.
Graava uses built-in sensors such as image sensor, microphone, accelerometer, and GPS. The sensors can also pair with monitors (for example 3rd party heart rate) to identify the most exciting moments while you are filming. The result is raw video automatically transformed into exciting clips. The Graava Action Camera will also sync the video clip with your favorite songs.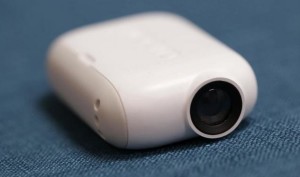 Despite being the size of a package of Tic Tacs, The  Graava Action Camera is capable of keeping up with the most extreme action hero. With a Lens Angle of View of 130º and and IP67 Water resistant, this camera can withstand very harsh conditions. It also has multiple sensors including a built-in GPS for location stamping.
Video wise the Graava Action Camera can record video up to 4K and photos up to 8MP Wide. The battery life works an estimated time 3 hours if you turn the Wi-Fi off. Graava also has accessories that enable it to be easily attached to helmets, bicycles and other objects.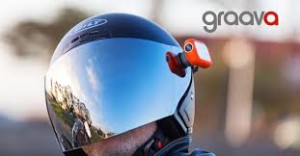 The Graava App is available for IOS and Android smart phones. It allows you to sync up and share your videos online without the need of a computer.
So Gizmo Readers, bottom line is the Graava Action Camera will allow you to spend more time outside creating those amazing moments and less time inside editing.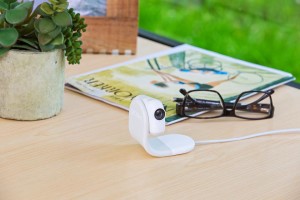 Features and Specifications
Dimensions: 44mm x 65mm x 20 mm
Weight: 60g / 21 oz
CPU: ARM Dual core processor
Battery:

Type: Rechargeable Lithium-ion 1100mAh, 3,7V
Life: Estimated time 3 hours (with Wi-Fi off)
Charge: via Magnetic Wireless Charger Stand (Included)

Connectivity: Wi-Fi, Bluetooth
Sensors and Monitors :

Gyro Sensor
Camera
Accelerometer
GPS
Heart Rate Monitor (Optional)
Light Sensor
Image Sensor

Water Resistant: rating IP67 (rain, splashing and accidental submersion)
Graava App: Available for IOS and Android devices
Image Resolution:

Video Resolution: HD 1080p 30 fps / 720p 60 fps
Hyperlapse Video: 4K, 1080p and 720p
Photo Resolution: 8MP Wide
Lens Angle of View: 130º
For more information or to acquire the: Graava Action Camera
About Graava

Based out of Sunnyvale, CA, Graava is dedicated to building technology that will provide the best user experience by identifying and sharing the best moments of people's lives.