Whether you are an occasional or frequent traveler, we all agree that some airlines seem to do their best to alienate their own customers. Modern air travel has become increasingly unpleasant as airlines continue to maximize its profits, by minimizing the comfort for its consumers. Whether it be reducing seat sizes, to removing pillows and blankets, airlines are doing to make flying coach more uncomfortable. The major airlines in 2013 made about $31.5 billion in income from these changes and additional ancillary fees,
In an attempt to tackle the pesky smaller, narrower and closer seat problems our friends at JetComfy have designed a High Tech Multi-Functional Travel Pillow that will ensure your head is rested in a comfortable cloud like pillow.
The JetComfy Travel Pillow is a small portable device that attaches securely to the arm rest of your seat. The pillow can be adjusted to the right height and angle, enabling you to rest your head on a 2" high density memory foam pillow (instead of your neighbor).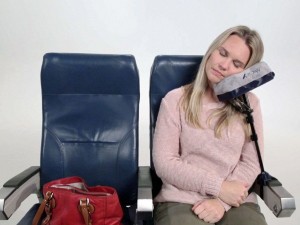 What makes the JetComfy a cool high tech device is the additional travel features that ensure your gadgets are not forgotten. Starting with the 3000mAh USB rechargeable power packs port in this pillow that will ensure your smart phone gets fully charged in the air.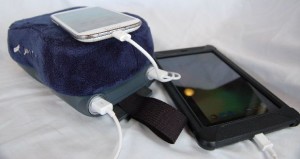 JetComfy also has a pen/stylus/light that is perfect to fill your crossword, letter or your duty and immigration card. The JetComfy armrest strap also doubles as a handy luggage strap to keep your JetComfy securely attached to your carry on luggage.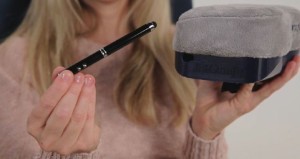 JetComfy is a great device for train and bus travel and would wonderful for those long car rides. Unfortunately JetComfy doesn't fix other travel nuisances ie that distinctive sweat odor from your friendly travel companion in the seat next to you. Perhaps this option will be available in JetComfy version two (hint hint).
JetComfy is currently available for purchase on Kickstarter and is expected to be available in April of 2016. The Kickstarter campaign aims to raise $100,000 to ramp production of the new products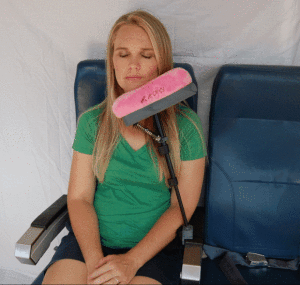 Features and Specifications
Dimensions: 5" width x 8" length x 1.5" thickness (compressed)
Weight:
Material:

Pillow: Ultra-soft memory foam pillow
Telescopic aluminum support rod

Features:

360 degree adjustable ball bearing
Rubberized armrest grip
2" high density memory foam pillow
Removable, washable pillow covers
Built-in dual port USB travel charger
Passport/document compartment
Headphone storage compartment
Pen
Stylus
Light
Tension springs for head support
Compact, fold-able design

Status: Seeking funding on Kickstarter
Estimated delivery: April 2016
For more information or to acquire the: JetComfy – High Tech Multi-Functional Travel Pillow
About JetComfy
Founded in 2013, JetComfy, LLC is based in San Diego and was founded by inventors David Brecht and Ephi Zlotnitsky. Borne from a desire to introduce products to travelers that would facilitate genuine comfort and convenience, the company today offers two versions of its flagship travel pillow, the JetComfy and the JetComfy Plus.