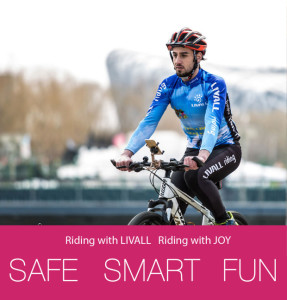 Many students are busy going back to school this week in hope of acquiring  new skills and academic knowledge. Based on the increased activity on the road, many students are utilizing their bicycles to get to and from school and home. Unfortunately the reality is that no matter how short or long your trip is, there is a risk for cyclists.
According to the IIHS Each year approximately 2 percent of motor vehicle crash deaths are bicyclists.  Bicycle deaths were highest during the months of June, August and September.  Adolescents and young adults are in the age brackets that have the have the highest bicycle death rates. Children (5-14 years), adolescents, and young adults (15-24 years) account for almost 52% of all bicycle-related injuries
The good news is new technology is moving towards preventing accidents from happening  In a hope to help both cyclists and drivers, our friends at LIVALL have developed the Bling Helmet, Bling Jet Remote Control, Phone Holder, and Nano Cadence Sensor.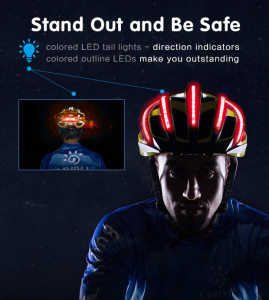 The Smart Bling Cycling Helmet provides cyclists with high tech safety features that will reduce injuries and fatalities to bicyclists. Starting out with 80 LED Lights that will both illuminate your way and alert pedestrians and motorists of your presence. These same lights can also be controlled  to indicate Left and Right turn indicators. The helmet also has an in-built Windbreak Mic and Bluetooth Speaker, that enables you to answer or make phone calls while on the bike. The Bluetooth Speaker can also allow you to pair and listen to your music, providing you with that extra motivation to push on.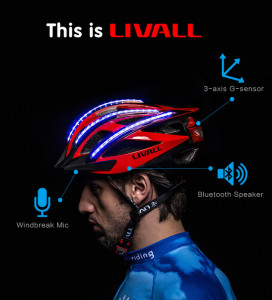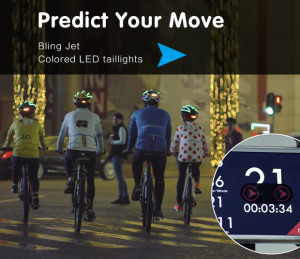 The Bling Jet is a Remote that wirelessly connects to the helmet and user's smartphone. It allows the rider to safely control answering, calling, volume and other functions.
As part of the kit, LIVALL also provides a phone holder that supports almost all kinds of smart phone between 4 and 6 inches.  The phone holder has a built in 3.7V battery that enables the rider to hold and charge their phone.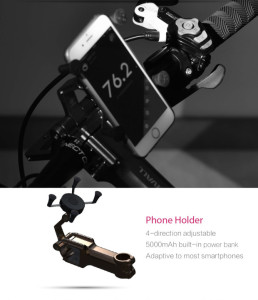 The Nano cadence sensor enables the cyclist to track and monitor lope rate, gradient, altitude, cadence, speed, journey and other stats.  This information can also be shared on social media (ie Twitter, Facebook, instagram etc) sites..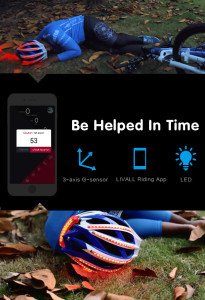 The gravity is the safety tech feature I love the most. If the G-sensor senses a unusual gravity acceleration (indicating a fall or crash), it will enable the SOS on the cyclists helmet and send out an alert to the cyclist's emergency contacts.
The Bling Cycling Technology is available for purchase. LIVALL is currently seeking funding though an Indiegogo campaign.  It is expected to ship in October of this year.
Features and Specifications
Size: Medium 54-58 cm; Large 58-62 cm
Weight: 450g
Colors: Ferrari Red, Ocean Blue, Bumblee Yellow
Communication: Bluetooth BLE 4.0+ HFP/HSP/A2DP
Helmet Battery

Type: Battery Power Bank
Battery: 2200mA (8.1 Wh)
Recharging Time: ~ 3.5 hours
Endurance: > 20 hours
Stand-by Time: > 360 days
Connectivity: USB port (located at the back of the helmet, right below the indicator)

Left and Right Direction indicator
Hi-Fi Bluetooth speakers and a microphone
Walkie-Talkie
Text to Voice
Smart Lighting: 80 LED Lighting System
Gravity Sensor
Cadence Sensor: measures speed, distance, calories, and more
Phone Holder
LIVALL Riding App

OS Compatibility: Apple and Android devices
Measurements: cadence, speed, journey stats
Safety: SOS alerts
Smart Lighting: control the lighting on the helmet
Photos: Pictures and videos
Social Media Integration

Status: Seeking support on Indiegogo
Availability: Expected to be delivered October 2015.
For more information or to acquire the: The Smart Bling Cycling Helmet
About LIVALL
LIVALL are extreme sports fans and cycling enthusiasts who combined with a deep love for their craft came together to pioneer smart cycling helmets and other cycling equipment. LIVALL aims to ensure the safety of cycling while making sure cyclists have an enjoyable experience that they love to share with others.