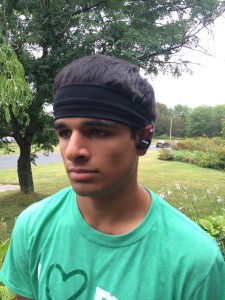 2015 was the year that wearable tech emerged from the shadows of products targeted towards the technology astute to be embraced by mainstream consumers.  One of the biggest problems up till now has been that wearable technology was designed to accentuate the latest features and gadgets and less to emphasize fashion and functionality.    That trend seems to have turned in 2015 with the release of the devices such as the Apple watch..
The 1 Voice Bluetooth Headband is a product which is targeted towards both serious and the occasional athlete that wants a set of Bluetooth headphones for audio while they are working out without the hassles of wires attached to their phones. This wearable technology integrates fashionable lightweight headband with with small, comfortable wireless earbuds headphones..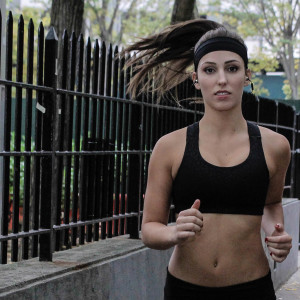 The headphones are compatible with IOS and Android devices. A number of features can be controlled through the headphone controller, including: volume, turning the Bluetooth on/off, advancing and pausing music, answering/ending/rejecting and redialing the phone. There is a built in microphone integrated into the headband.
Strengths:
I love many features of the 1 Voice including:
1 Voice is a simple, straightforward product: Bluetooth Headphones, with microphone, integrated into a Headband.
1 Voice is compatible with IOS and Android phones.
The Headband is comfortable for most athletes. The headband is constructed out the same material that draws sweat away from the skin, so that sweat isn't dripping in your eyes while you are working out.
The sound quality of the headphones was comparable to standard headphones.
The distance between the headphones and phone is marketed as 30 feet.  This is great for workouts (ie Yoga, Rhumba etc) where you typically do not have your phone while you are working out.
The charging port is located in the back of an earbud and is not exposed to dust or moisture.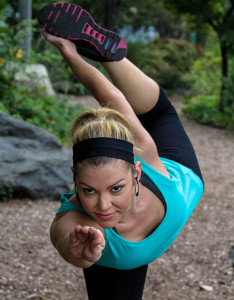 Challenges:
Our one challenge with the product was that the 1 Voice's rechargeable battery that was tested lasted about 2 hours of continuous use.  The time is a little bit less than some of the other products on the market however is sufficient for a great workout.
The 1 Voice is machine washable however the consumer need to make sure to remove the earbuds prior to doing this (more of a heads up to our readers).
Bottom Line:
1 Voice is a company that is trying to make "functional" Headphones for living, playing and working. The concept is simple and practical. For those who want inexpensive audio or phone functions as part of their workout, without being tangled in wires, 1Voice is a good option.
In addition to the 1Voice Bluetooth Headphones, the company sell number of "wearable" products which integrate into "everyday" articles of clothing including Beanies, sunglasses, and Eye Masks. Having electronics adapt to our lifestyle, rather than vice-versa is smart and sensible.
Features and Specifications
Style / Fit: In-Ear

Noise isolation

In-line control toggle

Battery: Rechargeable via m

icro-USB charger

Compatibility: Can be Used to Bluetooth Enable Any Other Wired Acoustic System

Cleaning: Machine Washable

(but remember to remove the earbuds)
For more information or to purchase the 1 Voice Sports Fitness headband with built-in Bluetooth earbuds
About Leanne

Leanne is a sports fanatic who has participated in many sports including soccer, gymnastics, swimming, track and field, yoga and jujitsu.  Having completed several professional coaching licenses for soccer in the US and Canada and with over 40 years experience , she knows what goes into developing elite athletes.  She is passionate about fitness technology and provides feedback as a guest blogger for New Gizmo Blog.