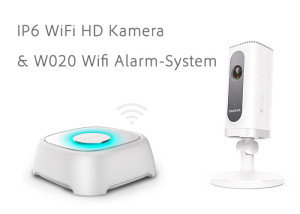 One of the benefits of IoT appliances recently has been the increased capabilities provided for consumers in markets traditionally serviced by contractors. Take for example home security. Up to recently, home owners would have to rely on security monitoring corporations.
Our friends at Smanos, a subsidiary of Amsterdam based Chuango Security Technology Corporation have developed a high tech DIY customizable security solution.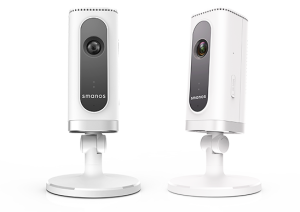 Beginning with the Smanos IP6 Next gen WiFi Camera . This high quality camera provides residential consumers with the ability to remotely monitor and capture 720P HD Video during day or in Low Light / Night time . The Smanos IP6 Camera . can be connected quickly to the internet for remote monitoring through the WiFi Quick Link App that is available for both Android and IOS smart devices. In addition to great video, the Smanos IP6 WiFi Camera has a HiFi microphone and speaker which provides the user with the capabilities of capturing High sensitive, noise reduction Omnidirectional Audio from up to 5 meters away.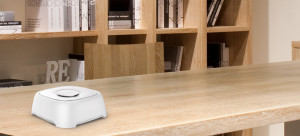 The second piece to the Smanos consumer home security package is the Smanos W020 WiFi Alarm System . To the untrained eye, the W020 looks like a simplistic elegant work of art based on its modern elegant design. This intelligent security system is the brain of the Smanos package. It can connect easily to your WiFi system and can control up to 30 devices including door sensors, window sensors and the Smanos IP6 Next gen WiFi Camera . What I like about the Smanos W020 WiFi Alarm System is that it is very easy to setup and can be customized based on your home individual needs. In addition to this the Smanos W020 comes with both a direct to wall and a battery backup power system.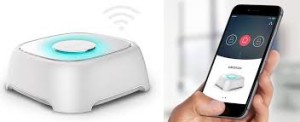 When the Smanos W020 WiFi Alarm System is triggered a loud build-in siren goes off on the premises and push notification can be sent to up to 5 designated family members and friends in real time. The Smanos App is compatible with multiple smartphones (Android or iPhone) and can be monitored by multiple smart devices / family members simultaneously.
Finally Technology has evolved for consumers.
Specifications W020
Dimensions (L x W x H): 117 x 118.5 x 40.5mm
Power Supply:DC12V 500mA
Battery: AA 1.5V LR6 x 4pcs
Standby Current: <140mA
Alarm Current: <270mA
Internal Siren: 105dB (High Volume)
Expandable Accessories: 10 remote controls, 30 sensors
Radio Frequency: 868MHz or 915MHz
Housing Material: ABS plastic
Operation Condition: Temperature: -10°C~+55°C
Relative Humidity: <80% (non-condensing)
Specifications IP6
Dimensions (L x W x H): 80 x 80 x 150 mm
Image sensor: Sony 1/3″ CMOS sensor
Min. illumination: 0.01Lux@ (F1.2, AGC ON)
Shutter time: 1/50s to 1/100,000s
Lens: 2.4mm F2.0
Angle of view: 110°
Video compression: H.264
Bit rate: Self-adaption
Max. image resolution: 1280 x 720
Frame rate: 30fps (1280 × 720)
Storage: Built-in microSD card slot, up to 32GB
Wireless standards: IEEE802.11b/g/n
Frequency range: 2.4 GHz ~ 2.4835 GHz
Channel bandwidth: 20/40MHz Support
Operating conditions: Temperature: -5 °C – 60 °C (23 °F – 140 °F)
Humidity: < 95% (non-condensing)
Power supply: DC 5V 1A
Power consumption: 5W MAX
App Operating System Compatibility: IOS and Android
For more information or to acquire the: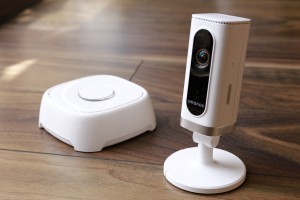 About Smanos
Smanos is the brainchild of Chuango Security Technology Corporation, Chuango Europe B.V. and smanos Holding, with a decade-long commitment to simplistic design and system reliability. Marketed and serviced from Amsterdam, smanos is our security, monitoring and automation solution portfolio for the global residential and SOHO market, especially targeted at retail channels in hardware/DIY, consumer electronics and IT/mobile accessories.