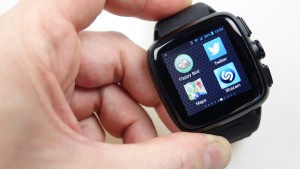 Wearable Tech is one of the largest growing sectors in Consumer Electronics.  Whether it be much hyped Google glasses or the popular fitness FOB, wearable gadgets are a major part of our daily lives. An article recently published by MarketsandMarkets research firm has revealed that Wearable Tech revenue is expected to be worth 11.61 B by the year 2020. Despite the glamour and promise for gold, developers of wearable technology have been challenged to achieve the secret to commercial success.
One of the most successful wearable tech released within the past year has been the Apple Watch with estimated sales of 3.6 million units in the first quarter alone. Hoping to match the success of their IOS competitors, our Android friends at Omate have announced the release of the TrueSmart 3G Android Smart Watch.
At only 1 pound in weight, this standalone watch provides the ultimate freedom from your smart phone through the flexibility of  texting, emailing, surfing the internet, finding directions to your favorite restaurant, tweeting and even playing your favorite game.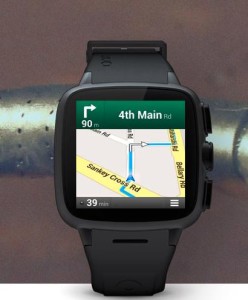 With a Micro-Sim Slot you can connect to the power of your preferred 3G carrier from your wrist. The TrueSmart runs the  Android 5.1 Lollipop operating system on its Dual-core 1Ghz ARM Cortex-A7 processor.  It's 1.54″ display is just big enough to clearly read your email, but small enough to look clumsy on your wrist.
The TrueSmart   has standard communication features including Bluetooth and WiFi 802.11b/g.  It is powered up by a 600mAh Lithium Polymer battery which provides it with approximately three days of standby time.  The battery can be recharged by the USB interface.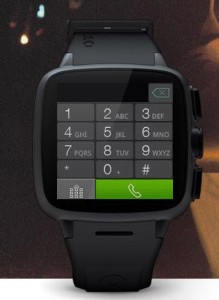 Features and Specifications
Size (L x W x H): 7 inches x 3 inches x 5.5 inches
Weight: 1 pound
Processor: MT6572 Cortex A7 Dual Core
Memory: 8 Gb ROM, 1Gb RAM
Display: Size Resolution

TrueSmart-i: 240×240 display:
TrueSmart+: 320×320 display:

Voice Connectivity: 2G/3G modem for calls
Data Connectivity: Bluetooth, 802.11b/g WiFi
Software:Data, Messaging, Emails, Social Networks
OS:

TrueSmart-i: Android 4.4
TrueSmart+: Android 5.1

5MP HD camera (720p) recording capability
keyboard: input via Android Fleksy Keyboard
Input: 1x Micro SIM slot, 1xMicro-SD Slot, 1x USB
Built in GPS Antenna, Microphone, G-SENSOR, Gyro, E-Compass, Vibration Alert
For more information or to acquire the: Omate TrueSmart Android Smart Watch
About Omate
Omate is a Tech Platform Ecosystem for the IoT and Wearables. Omate operates a vertically integrated Wearable Design Manufacturer based in Mountain View – California and Shenzhen – China.