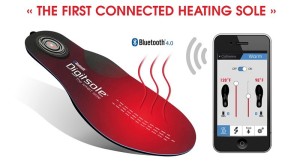 With the chill of fall in the air and winter around the corner, its a great time to talk about one of the hottest gadgets on the market.
Created by a French based company, Digitsole is a smart insole that will track your steps and warm your feet. Made out of Neotech (platform) and Poron (insole), at first glance, these soles look and feel no different than other traditional inserts. The Digitsole also has built in arch support and heel shock absorbers which will help many to deal with foot problems.
However beyond the basics there are many features which you do not see in your Dr. Scholl's footwear. Digitsole connects via Bluetooth 4.0 to your iOS or Android smart phone enabling the user to warm up your feet. Having experienced -40°C last winter, I can tell you having a pair of these would help to kill the chill felt in my toes.
Using Digitsole is quite simple. After installing the app on your smartphone, enter in your height and weight information, enable Bluetooth and pair with the Digitsole insoles. Set your temperature on the app and watch as it takes less than a minute to reach your desired temperature.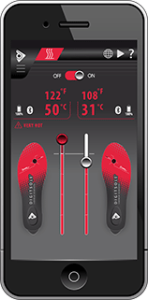 Digitsole also tracks other foot data including calories burned and steps taken. The maximum distance between Digitsole and smartphone is approximately 16ft. (5 meters). Typically the battery on the Digitsole will last between 6 to 9 hours.  However, the battery life  varies based on use and how cold it is outside (ie how high do you have to crank up the heat). Charging these insoles is via a Micro-USB charger which can be plugged into a port near the back of the heel.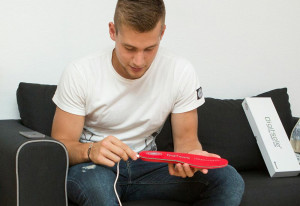 One of the most important things you should note is the instructions for cleaning the Digitsole.  Although this smart tech is water resistant, this does not mean you can put the Digitsole into your washer.  In order to clean them, remove your insoles from your shoes or boots and utilize a damp sponge to gently remove the dust or dirt from the insoles.
So Gizmo readers, join me in getting ready for the chilly weather and get the latest in hot tech to warm up your days.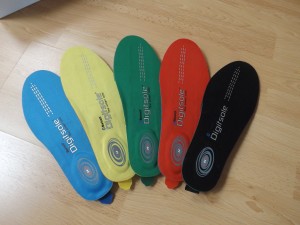 Features and Specifications
Sizes:

Men: : From 8 to 13
Women: 6 to 10
European sizes: 36 to 46

Weight: 3.5 ounces
Max Heat level 104°F / 40°C
Battery:

Type: Rechargeable Hi-Cap
Battery Life: ~6-9 hours (depends on use and temperature outside)
Recharge Interface: Micro-USB port near the back of the heel.

Material: Neotech (platform), Poron (insole),
Shock Heel System, Arch Support
Connectivity: Bluetooth 4.0
App:

OS: iOS and Android devices
Device: iPhone 4S+ / Android 4.4 device with Bluetooth 4.0

Smart Functions:

Warm your feet –
Track steps
Track Calories burned
For more information or to acquire the: Digitsole Heated Smart insole
About DIGITSOLE
Digitsole is the world leader in the design & distribution of connected footwear products. We notably created the Warm Series, the first interactive, connected, heated insole and strive to bring new innovative features to end-consumers for both leisure and professional use.