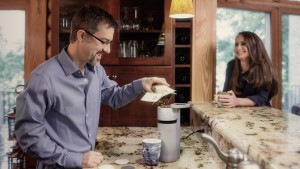 Monday morning received a caffeine boost with the discovery of great coffee tech by Bruvelo. This Smart Coffee Maker delivers end to end java perfection.
What makes this machine so smart? The answer is simple.  Bruvelo merges great mobile technology with the traditional approach to creating a great cup of coffee.
The process begins with the Bruvelo mantra of combining and perfecting the coffee essentials of grinding, temperatures, filtration and steep into a single device. Based upon your smart device selection Bruvelo grinds the perfect amount of beans required by the recipe. Bruvelo transforms these beans into java goodness by immersing the grinds in a 199° F (92.7° C) of water and filtering them through a paper filter.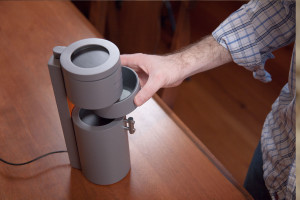 The mouth watering traditional methodology to coffee making does not mean that Bruvelo has eliminated the convenience of technology. The Bruvelo iOS & Android app provides consumers with the ability from their mobile device to schedule their cup of coffee through a preset alarm, schedule or the brew now option.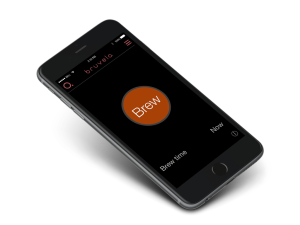 In a time where (depressingly) for the majority, making a cup of coffee has been reduced to sticking in a pod, pressing a button and waiting 30 seconds, I love that Bruvelo has returned the artistic approach back to brewing coffee.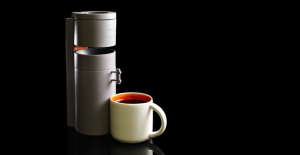 Features and Specifications
Dimensions: 3.5" x 10.5" x 5" (9 x 27 x 13 cm)
Colors: Grey and orange
Mug: Supports up to 4 1/2" (11cm) tall coffee mugs
Materials: stainless steel or non-BPA plastic
Volume: 10 oz
Brew Temperature: 199°F / 93°C (+/-2°F)
Brew Time : Approximately 4 minutes
Mobile App:

Operating System: iOS & Android
Features: Alarm, schedule, brew now
Connectivity: Bluetooth BTLE 4.0
Range: ~400ft

Coffee Filter: Paper or Metal. 63mm disc
Bean Hopper: Holds approx 20g of whole beans
Grinder: Adjustable Ceramic burr.
Power: 120v / 240v. External power adapter
Status: Seeking Kickstarter support
For more information or to acquire the: Bruvelo Smart Coffee Maker
About Bruvelo
Bruvelo is a story about following your passion. It's about putting your heart and soul into something you love. Our passion is brewing great coffee and making it easy for you to experience the coffee the way the roaster intended.