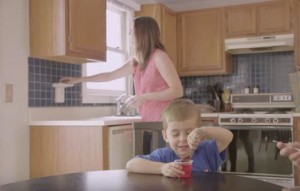 Smart phone's have become an essential part of our lives. For many it is as a result of the convenience of being able to call anywhere at any time. Or it could be the vast array of features and apps available such as email, text and GPS.
Unfortunately, the picture is not all roses.  There are a few basic features with existing smart technology that needs to be fixed. Some items that top my list are issues related to power including:
Smart phones do not have enough battery life
My smart phone is not intelligent enough to charge itself
Charging my smart phone can be frustrating. Get rid of the messy USB cables.
The cable interface is non standard and varies based on vendor choice
Our friends at WallJax have heard the complaints (and in my case the crying) and have designed a device that is built on the wireless charging standard. Available in two options, these sleek and sexy looking tech devices provide consumers with an easy to use charging solution.
The WallJax EZ is a power interface that simply plugs into an available power socket. In addition to providing an elegant wireless power solution, this device also ensures that additional power plugs are available for your other appliances.  The WallJax EZ is very easy to install, simply unpack, identify where you want to install it and plug it into the power socket.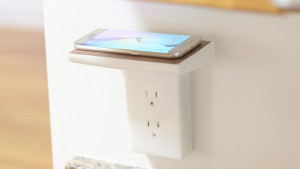 The WallJax Float connects via a USB cable and power cord to your existing power port. The micro-usb cable can either be installed in front of the wall or hidden in the wall, making the shelf appear as if it is magically floating on air. A LED status lights shine through the bottom to let you know the power charging status.  The WallJax Float is also very simple to install and takes only a few minutes.  Identify, where you want to install the device.  Drill holes for the Wall grommit (for the micro USB) and the mounting holes (for the shelf). Feed the cable through the wall,  through the Key holes in the WallJax Float shelf.  Mount the shelf.  Attach the USB cord to the power adapter and you are now ready to use the WallJax Float.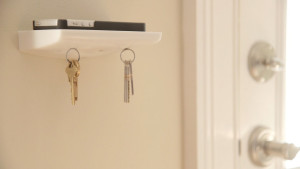 What I like about the WallJax solutions is that they can be installed anywhere in your home. No searching for cables is required. For either solution, no app is required and only one phone can wirelessly charge at once. In addition to your smartphone, WallJax can charge any device that charges over USB; such as Tablets, Fitness devices and portable speakers.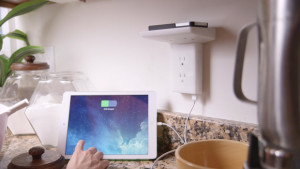 Gizmo readers, if you are as enthused as I am, you can purchase one (or many) WallJax's through their online Indiegogo campaign. It is expected to ship in June of 2016.
Features and Specifications
WallJax EZ

Dimensions W x D x H 5.75 x 3.75″x5.75″
Weight: ~8 oz.
Color:Main Body: White, Flat top cover surface: is Walnut wood or pure white plastic

WallJax Float

Dimensions W x D x H 5.75 x 3.75″x1.25″
Weight: ~5 oz.
Color:Main Body: White, Flat top cover surface: is Walnut wood or pure white plastic

Wireless Connectivity: Via Qi wireless power standard
Wireless Power = 5W (1 Amp, 5 Volt) by Qi standard (WPC 1.1)
Charging Distance = 1/8 inch. *Phone must sit flat on WallJax EZ.
USB Power Output = 10W (2 Amp, 5 Volt) from female USB-A receptacle
Pass Through Outlets = 2 of NEMA type 15-5, 120 Volts AC, 15 Amps
Device Compatibility:

Out of the box:

Samsung Galaxy S6+, Note5, S6, S6 Edige, S6 Edge+
Motorola: Droid Maxx, Mini, Lumia 735
Nexus: 4, 5, 6, 7
HTC: Droid DNA

With Case:

iPhone: 4, 4s, 5, 5s, 6, 6+
Nokia: Lumia 1020
LG G2, G3, G4

Factory Black Plate:

Samsung Galaxy S3, S4, S5, Note 4
Droid 4
Nokia: Lumia 820, 925,1020

Status: Seeking funding on Indiegogo
Availability: Estimated delivery June 2016
For more information or to acquire the: WallJax Wireless Wall charging shelf