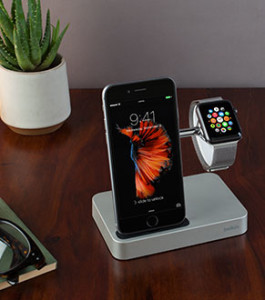 The Apple Watch has been the most publicized and highly successful wearable tech of 2015. Amazingly according to IDC Apple shipped 3.6 million Apple Watches Q2 2015, which would exceed the initial sales of the iPhone or iPad.
However despite the convenience, simplicity and love affair with the newest Apple product, there are a few challenges for consumers with this technology. One of the glaring issues faced is that the Apple Watch battery lasts approximately a little more than a day for most models.
Our friends at Belkin have collaborated with Apple to come up with a device to address this short coming. Beautifully constructed, compact and elegantly designed, the Belkin Charge Dock for Apple Watch + iPhone provides consumers with a sleek and sexy solution.
The adjustable dial on the Belkin Charge Dock lowers and raises the Lightning connector to fit the iPhone with a variety of cases. The charger leverages an integrated magnetic charging system which is the same technology as the Apple Watch charger. As soon as the watch is aligned with the integrated charger it begins to charge instantaneously.
Elegant in modern design, superior quality makes the Belkin Charge Dock for Apple Watch + iPhone a perfect gift for family, friends or yourself.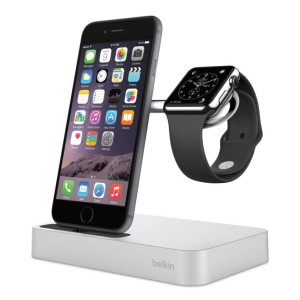 Specifications
Dimensions: 4.3 x 5.28 x 3.47″ (10.93 x 13.4 x 8.8cm)
Integrated magnetic charger for Apple Watch
Elevates Apple Watch safely above surface
Minimalist, sleek appearance with premium finishes
Displays devices at ideal viewing angles
Solid metal arm with chrome finish
Solid metal base with silver finish
Cable: 1.5 m/4.9 ft. cable
Compatibility:

Apple Watch: Apple Watch Sport, Apple Watch Edition, Apple Watch
iPhone: iPhone 5/5s, iPhone 6 Plus, iPhone 6

Availability: available online now for purchase
For more information or to acquire the: Belkin Charge Dock for Apple Watch + iPhone
About Belkin
At Belkin, we make people-inspired products that harness the power of technology to connect people and the experiences they love.