Having watched the latest episode of CSI: Cyber last night on television I was intrigued and inspired to write an article about this cool technology introduced by Ted Danson's character "D.B. Russell" . For those who have not watched the episode, do not worry because I won't reveal any spoilers.
Early on  DB Russell was seen playing with Pacif-i™, a high tech Pacifier for babies.Created by UK technology innovator Blue Maestro, the Pacif-i™ is a smart, safe pacifier that will allow parents through the magic of Bluetooth to monitor their child's temperature or medication..
Mom and dad can track and save this information from a maximum distance of 50 meters. For parents with more than one child, the Pacif-i™APP can track multiple pacifiers and multiple children.The data can be recorded over time providing you and your doctor accurate and historical information. Depending on your preference, the information can be configured and displayed in either Celsius or Fahrenheit.
Installing and using the device is very easy.
Download and install the free PACIFI APP on your iOS 7+ or Android 4.3+ smartphones or tablets.
Enable Bluetooth on your smart device
Sync the Pacif-i™with your smart device
At any time you will now be able to track and record your child's temperature and medication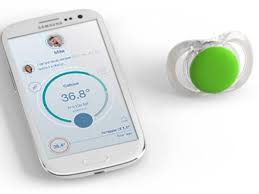 Blue Maestro must have parents within their design team as they added a few other parent friendly features which I think are absolutely spectacular. Available in wonderfully bright colors these Smart Pacifiers will not only be very attractive to children, but will be very easy to spot in the room.  Blue Maestro has also added a Buzzer Alarm to help parents find the Smart Pacifier, should their little Jimmy or Jane misplace it. The Pacif-i™ has a proximity sensor. Parents can easily set up a Geo-fence up to a maximum distance of 20 meters that alerts when the child wanders off.
Amazingly who would have thought that a Pacifier merged with Bluetooth could result in a health device and a personal safety technology.  A great gadget by Blue Maestro that will sooth crying babies and calm parent's concerns.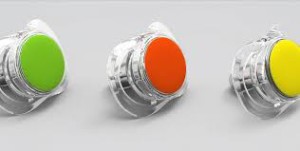 Features and Specifications
Colors: Initial Colors orange and green.
Connectivity: Bluetooth Smart technology
Compatibility: iOS 7+ or Android 4.3+ smartphones or tablets with Bluetooth
Range: Maximum 50 meters line of sight
Battery Life: approximately 1 year
Waterproof: dishwasher proof
Proximity Sensor: Alerts when the child wanders off (set the distance up to a range of 20 metres)
Find me buzzer alarm
Health Tracking App Features

Temperature
Medication
Alerts: Schedule / set up alerts and reminders
Historical information on temperature and medication
Track multiple babies
Units: Celsius or Fahrenheit
Color coded temperature for diagnosis

Status: Preorder
Availability: May 2016For more information or to acquire the: Pacif-i™ – the Smart Pacifier

About Blue Maestro
Blue Maestro are innovators in wireless, smartphone and internet enabled healthcare and environment monitoring and control solutions utilising the latest in Bluetooth™ Smart, ANT+, WiFi and GSM/3G technologies.