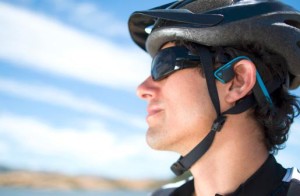 From the company Aftershokz that has created and patented sound ground breaking technology comes the high tech Trekz Bone Conduction Headphones.
Hoping to captivate the minds and ears of audio enthusiasts the Trekz uses powerful, dynamic bone conduction technology.
For our readers who are not aware, bone conduction technology transmit audio waves to the inner ears through the skull, bypassing the eardrums completely. physically for the consumer means that your ears are clear off those pesky earbuds. Most importantly, the result is a distinctive and enhanced crisp and clear sound.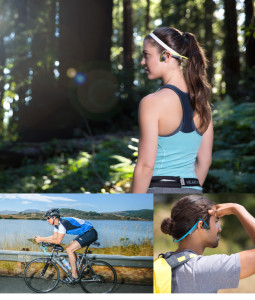 Bone conduction technology is considerably new in its unique approach to provide users the ability to listen to music while also being allowed to hear their surrounding environment. This concept is important for those listening to their music while running, biking or exercising in a high traffic environment (ie cars, busy parks etc). AfterShokz's Trekz Bone Conduction Headphones are sweat resistant and incorporates dual noise canceling microphones. This ensures that your speech is enhanced while you take that important phone call
The time is perfect for those interested in acquiring the Trekz Bone Conduction Headphones. Head on over to indiegogo and support their campaign. AfterShokz is also fueling a last minute perk called "Titanium Ticket" – open to anyone whether they're a current backer, or not! We're just asking for $10 and in exchange the backer will get a get a tasty chocolate SHOKZ bar and a chance to win one of five prizes worth $500 each. Every SHOKZ bar they buy earns them another chance to win! SHOKZ bars will ship in December, and the backer will know if they're a winner if they have a Titanium Ticket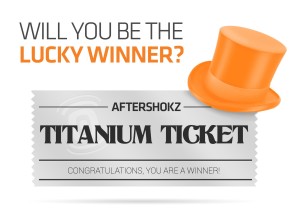 The five Titanium Ticket winners will get one Trekz Titanium plus one of the following prizes (winner's choice): Apple Watch, iPad Mini or Next Gen Gaming Console (Xbox One, PS4, Wii U).
Features and Specifications
Weight: 1.27 oz (36 g)
Speaker Type: Bone conduction transducers
Connectivity: Bluetooth v4.0
Wireless Range: 33 feet (10 m)
Battery:

Battery type: Rechargeable Lithium Ion
Battery life: 6 hours (of continuous play)
Charge time: 1.5 hours
Charge Interface: Standard micro-USB charging cable (included)

Durability: Sweat Resistant (IP55 certified),
Colors: Ocean (Blue/Black), Ivy (Green/Black), and Slate (Grey/Black)
For more information or to acquire the: AfterShokz: Trekz Bone Conduction Headphones
About AfterShokz
AfterShokz brings patented bone conduction technology, initially developed for military special operations and law enforcement by Voxtech in 2001, to sport, mobile and Bluetooth® headphones designed and priced for everyday use.