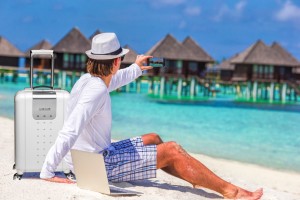 With fall in full gear and winter weather not far behind, I have started to look online for a warm and sunny destinations to warm up during those cold and chilly January and February months. Filtering through possible vacation spots I have also started to look at potential travel gear to enhance my vacation experience.
Our friends at Andiamo have come forward with an incredible new concept. Their #IOT luggage is hoping to revolutionize travel with the next generation in Smart Suitcases.
The Andiamo IQ Smart Luggage is the intelligent Swiss army knife of Smart luggage. Andiamo is looking to address many of the traditional travel peeves starting off with basics. Light weight, made out of Polycarbonate case with a sturdy Aluminum body the Andiamo will not only carry your necessities but it will also tell you how much they weigh. The built-in internal high tech scale is a great feature that will tell you how much you are carrying and potentially help you avoid the costly extra airline carrying charges.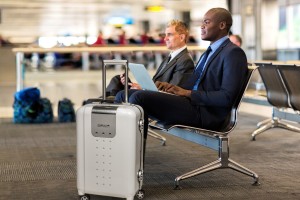 The Andiamo IQ Smart Luggage can connect to your smart Android or IOS device via Bluetooth Version 4.0 Low Energy. The innovative solution will allow you to set up a Geo-Fence around your luggage and will alert you if someone is trying to take it. This innovative feature also doubles for a travel valet that will notify you when your suitcase has arrived on the luggage carousel.
The designers at Andiamo are truly gadget savvy as the Andiamo IQ Smart Luggage Is technology intrinsic. It all starts with the smart (phone and tablet) device holder built into the suitcase that makes it easier to place your gadgets on top and browse. Extending to the removable 8000 mAh batteries which allows you to power your technology. The icing on the cake is that the Andiamo IQ also has a built in Wi-Fi hotspot that allows you to seamlessly and securely connect to the internet. One thing to note is that you will need to purchase a SIM card in order to utilize this feature.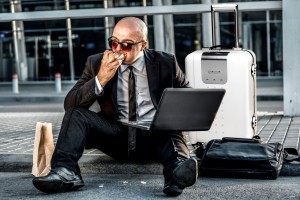 The benefits of having Internet without borders is evident, however, I love that the mobile power pack will help me avoid searching and fighting for a power plug in the airport to charge my devices.
The only disappointing thing is that the Andiamo IQ is \not available for purchase right now. The device is beyond the concept stage but the developers will be looking for funding on Indiegogo shortly.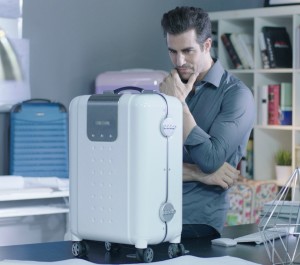 Features
Connectivity: WiFi, Bluetooth
Batteries: removable 6000 mAh battery, 2000 mAh base battery
Travel alerts to help ensure flights will never be missed
Security: Anti-Theft alert
Scale: Internal scale to avoid extra baggage fees
App Compatibility: IOS & Android App
Specifications:
Dimensions: 22″x 14″ x 9″
Weight: 9.0 lbs (without power pack)
Material: Poly-carbonate case with lightweight Aluminum body
360-degree gliding wheels
TSA approved locks
Status: Coming soon to Indiegogo
For more information or to acquire the: Andiamo IQ Smart Luggage
About ANDIAMO Luggage
Travel has changed so much in the last few years and ANDIAMO Luggage LLC keeps pace with those changes to maintain its long standing reputation as "Luggage that is engineered to take on the World".
ANDIAMO is consistently seeking the latest in innovation and working with the top material and component suppliers in order to provide the meticulous craftsmen throughout the world the tools necessary to build a product that you will not only be proud, but insistent on using.