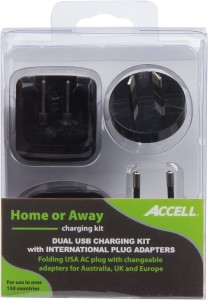 Whether it be a smart phone or table, portable music player, speaker, camera or GPS. bringing our technology brings many benefits. Unfortunately with great technology comes great power requirements which can be very challenging on international trips.
Our friends at Accell are aware and are up to the challenge and have an amazing great Gizmo that should be the top of your travel tech list. The Accell Home or Away™ Dual USB Charging Kit with International Plug Adapters will provide you with that extra power boost, whether you are in New York, London, Paris or Sydney.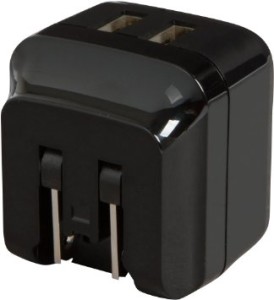 This gadget is very easy to use. Simply attach the correct (Interchangeable) regional power interface and plug the device directly into the power plug. The auto-switching feature will automatically detect and switch the device to the correct voltage. The illuminated Blue LED on the Home or Away™ Dual USB Charging Kit indicates that the USB charger is receiving power.
Small enough to slip into your pocket or travel kit, this device is capable of charging two USB devices simultaneously and compatible with both small (ie smartphone, Bluetooth speaker) and large (ie Digital Camera, Tablet) power requirements.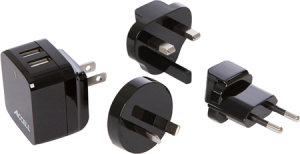 Specifications
Dimensions: (USB Adapter): 1.8*1.7*1.4 in.
Watts Maximum: 17W
Power Input: 100-240V, 50/60Hz
Power Output: DC 5V/3.4A
Adapters: EU, UK, AUS
Device compatibility:

SMARTPHONE (all models)
TABLET (all models)
PORTABLE MUSIC PLAYER
POWER BANK
RECHARGEABLE SPEAKER
DIGITAL CAMERA
GPS
PDA
Features
Dual USB Charging Ports
Fast 3.4A (shared) Charging
Folding USA Plug (non-polarized)
Interchangeable Plugs
Overcurrent (short circuit) Protection
Overvoltage Protection
Over Temperature Protection
LED Power Indicator
For more information or to acquire the: Accell Home or Away™ Dual USB Charging Kit with International Plug Adapters
About Accell
Accell has identified the need for connectivity to evolve in both form and function. To meet this need, we are creating products that are both easy-to-use and visually exciting. The Accell brand is built on a customer-centric and technologically advanced foundation with a focus on quality and value.