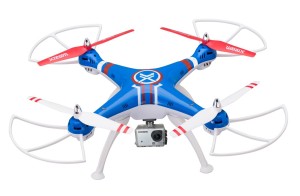 Drones have become one of the success stories in 2015 for Consumer Electronics. Whether it by Flirtey, an Australian drone-delivery startup that completed the first deliver of medical supplies in July of 2015 or Amazon Prime Air the future in courier delivery we have only seen the tip of the iceberg that this technology will have on our daily lives.
Perhaps that is one of the reasons why we should now be purchasing personal drones for our kids to train for the next generation Drone pilot jobs. Our friends at Swann want to give our kids a foot up on the competition with the release of the Gravity Pursuit 1080p Video Drone the flagship of their Xtreem' range of remote-controlled toys
At only 1.34 ounces, this light weight Drone is no push over. Leveraging 2.4GHz frequency wireless communication you can connect to the Gravity Pursuit from up to 100 feet. The 1080p full HD video camera can be easily detached from the frame. While the 4GB microSD card (included) will ensure you have enough storage to get that perfect picture.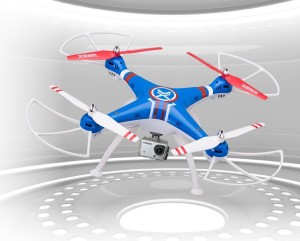 The rechargeable 7.4V 2000mAh Li-poly battery on the Gravity Pursuit provides the pilot with 12 minutes of continuous flying time (per charge). This cool Gizmo will provide your kids (and you) with hours of fun. Hone your skills flying the four-axis drone and perfect tumbles, loops and other 4D stunts.
For your kids, it may seem that the Gravity Pursuit 1080p Video Drone is all fun, but in reality it is helping them hone their skills for their future. Extreme fun at your fingertips with Swann's Xtreem remote control copter!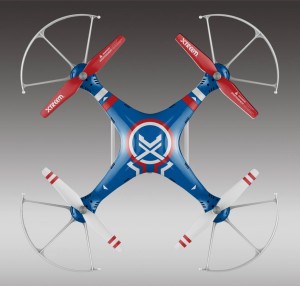 Features and Specifications
Dimensions: 19.69″ x 19.69″ x 7.48″ / 500mm x 500mm x 190mm
Rotor Diameter: 9.13″ / 232mm x 4
Weight (minus guards): 1.34oz / 610g
Drone Type: Outdoor
Battery:

Remote Control Battery: 4 x AA
Drone Battery: Rechargeable 7.4V 2000mAh Li-poly battery
Drone Battery Length: 12 minutes per charge
Battery Charger: US plug

Media: MicroSD 4GB (takes up to 32GB)
Record Time: Approx 30 minutes video (on 4GB card)
File Type: AVI (MJPEG) videos, JPEG
Video Quality: 1080p HD
For more information or to acquire the: Gravity Pursuit 1080p Video Drone
About Swann
Swann is a global leader in security monitoring, consumer electronics and security-centric solutions for the smart homes and businesses of today and tomorrow