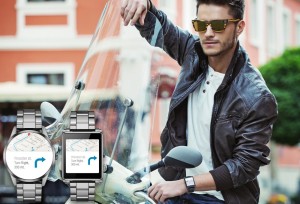 With the incredible publicity of wearable watch technology in 2015, many would assume that the majority have turned in their legacy wear for the modern more functional watch technology. Surprisingly, this is not the case. Information released in October of this year by Kantar Worldpanel ComTech found that smartwatch technology has been only adapted by only 3 percent of the US population (age 16+).
There are several reasons for this abysmal number. Perhaps it is the cost, the immense amount of vendors, or awkward look of the watches themselves. One of the factors could also be that in some case you may have to purchase a smartwatch that is in sync with your smartphone selection.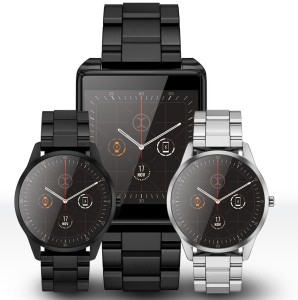 Our friends at OXY Technologies are hoping to address many of these barriers with the release of The OXY SmartWatch. This cost effective, light weight smart device looks like regular watch. Made out of CNC finished 316L stainless steel and IP67 Water resistant, one may wonder what distinguishes this watch from the competition.
The OXY SmartWatch is a technologically agnostic device. Meaning it will seamlessly interface with your Android 4.3+, iOS 8.0+, Windows 10 smartphones through Bluetooth 4.1 (BLE) connectivity. Available in both Round and Square configurations, the The OXY SmartWatch has many features including integrated calling and texting, acoustic alarm and vibrations. My favorite features of this sleek and sexy device are the integrated GPS navigation and the configurable auto sync with Google Mail and Exchange mail. These two features alone will allow you to easily browse and view of those important emails and the flick of your wrist which is much more subtle than the traditional take out your phone and browse at the screen. The even less subtle vibration (or acoustic) alarms ensures that you (and not the person next to you on the train) are notified of important calendar and tasks.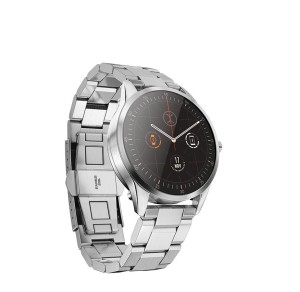 Our friends at OXY Technologies have included many techno friendly features in this watch. Take for example bread and butter design features like battery. The battery on the OXY SmartWatch lasts with normal use 2 – 3 days, while in airplane or standby mode it would last up to 7 days. Charging the smartwatch is even easier with the Micro USB magnetic charger.
The OXY SmartWatch can be personalized with the customizable watch faces. It also has a variety of sensors including one for heart rate which makes it perfect for IoT integration with fitness app(s). I also love the gesture enabled control features.  The consumer can leverage swipe, tap and shakes to open, navigate and talk.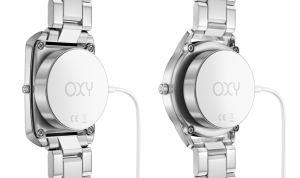 For those interested in purchasing the OXY SmartWatch unfortunately you will have to wait a little longer. Currently OXY Technologies is seeking funding via its indiegogo campaign. Delivery of this amazing tech is expected to be in July of next year.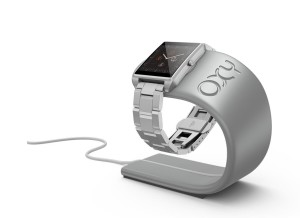 Features and Specifications
Dimensions: (Oxy Round) 43mm x 12mm – 61 gr (without wristband)
Dimensions: (Oxy Square) 45mm x 37mm x 9.5mm – 61 gr (without wristband)
System OS: powered by Android Lollipop 5.1.1 ELF OS
Material: CNC finished 316L Stainless Steel
Display: AMOLED Display (Corning Gorilla Glass)
OS Compatibility: Android 4.3+, iOS 8.0+, Windows 10
Smart Phone Connectivity: Bluetooth 4.1 (BLE)
Processor: MIPS M200 microchip
Memory: eMCP (1GB of RAM, 8GB memory)
Durability: IP67 Water resistant
Features:

Speakers and Microphone
Text: Receive and reply to text messages
Calls: Answer phone calls
Acoustic Alarm and Vibration
Configurable auto sync with Google Mail and Exchange Mail
Integrated GPS Navigation, Fitness app
Customizable Watch Faces
Reminders: Calendar, Task reminder integration
Integrated voice control: search, dictate text, activate apps
Gesture control: Swipe, Tap, Shake
Sensors: Gyroscope, Accelerometer, Magnetometer, Heart Rate, Ambient Light, Proximity
802.11 b/g/n single band 2.4 GHz WiFi

Battery:

Battery Type: Rechargeable LiON Battery 3.7 – 4.2 Volts
Battery Life: Normal mode: 2-3 days, Standby: 7 days
Charger: Micro USB with Magnetic Charger

Status: Pre-order via Indiegogo
Estimated delivery date: July 2016
For more information or to acquire the: The OXY SmartWatch