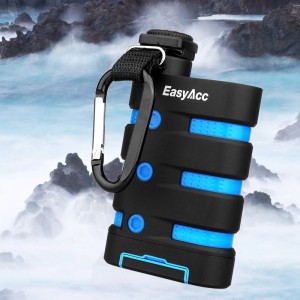 Are you ready to withstand the icy grip of old man winter? For me, preparation for the upcoming winter season is about putting on the snow tires, getting out the warm (jackets, boots, gloves) wear and most importantly gathering the essential survival gadgets.
This time last year, our friends in Buffalo were getting hit by the North American winter storm referred to as Snowvember. The snow fall hit areas of New York with up to 7 feet of snow and many cars and people were stranded in their vehicles waiting for help to arrive.
Learning from the mistakes and weather of previous years has reinforced that everyone should have a Winter Survival Kit in their car. In an emergency, it could save your life and the lives of your passengers. That is why in addition to food, blankets, emergency flares and water, on top of my winter gadget list this year is the hardy EasyAcc® all weather 9000mAh Power Bank. Waterproof, dust-proof, shockproof and sturdy to withstand that accidental drop but yet small enough to slip into your purse, pocket or glove compartment.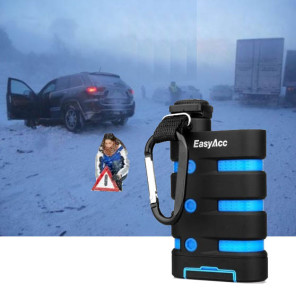 An essential element of my emergency car kit, this device will  keep the charge up on my cell phone so that I can get a hold of loved ones or emergency vehicles. Made out of rugged PC+ABS material, the EasyAcc® 9000mAh Power Bank comes with a carabiner and handy compass which is great to hook up to your pants and point you in the right directions.
Our friends at EasyAcc® have thought of almost everything with this device. In fact they have also engineered a LED flashlight into the EasyAcc® Power Bank to help you day or night.
Gizmo readers, make sure you prepare your winter driving emergency kit for winter weather before the nasty weather strikes.
Features and Specifications
Size (LxWxH): 3.98 inches, 2.52 inches, 1.06 inches
Material: PC+ABS
Weight: 223 g / 7.87 ounces
Built-in flashlight
Handy compass
Carabiner
Durability:

Waterproof IP67
Dust-proof,
Shockproof

Battery:

Battery Type: Lithium-ion battery cell
Capacity: 9000mAh / 33.3 Wh
Input Port: DC 5V 2.0A (max) (AC Charger NOT included)
Output Ports: DC 5V 2.1A (max) Port1:DC 5V 2A Port2:DC 5V 1A

Compatibility: With almost any smart device with an input of DC 5V
Note: NOT compatible with Galaxy Tab models that have a 30-Pin charging port
For more information or to acquire the: EasyAcc® 9000mAh Power Bank
About EASYACC
Hong Kong based EasyAcc is an international manufacturer and distributor of electronic gadgets and accessories. With an unwavering belief in creating innovative designs, delivering reliable products, offering favorable prices, and providing exceptional customer service, we have become one of the biggest leaders in the global market.