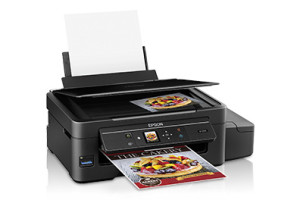 With consumers becoming more environmentally aware, one of the trends in Consumer Electronics Technology has seen some of the biggest names embrace more eco-friendly designs for their products.
Epson, one of the innovators in high performance products, has released the Epson Expression ET 2550 . At only 19.3″ x 20.7″ 11.6″ (W x D x H), this printer not only takes a smaller real estate footprint, but also takes an even much smaller carbon footprint.
Many of us do not realize the impact ink cartridges have on the environment. Each year, more than 350 million ink and toner cartridges are thrown out in the United States alone. Manufacturing a single toner cartridge releases 4.8 Kilograms of carbon dioxide into the atmosphere. That is why I was happy to see Epson design an all in one device that will reduce the quantity of ink cartridges being thrown out.
The Epson Expression ET 2550 comes with four EcoTank™ Ink Bottles (Cyan, Magenta, Yellow, Black)  loaded and ready with up to 2 years of ink in the box. This translates for each device to 4000 black/6500 colour pages and more importantly 20 ink cartridge sets(not hitting our landfills). I love the visual windows on the side of the Ink cartridges that allow the consumer to check their ink levels by simply looking at the side.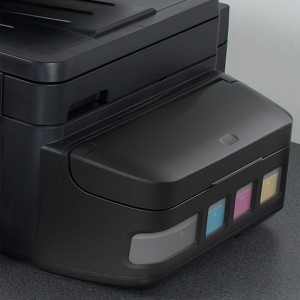 And once you have finished the ink, you need not purchase replacement cartridges. Simply buy Epson affordable replacement ink bottles and fill up the cartridges.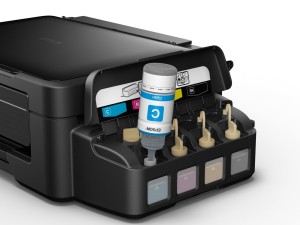 This all in one device is ideal for home or small business use with support of table stakes copy, print and scan functions. The ET 2550 has a 100 page Input Paper capacity and supports paper from 3.5″ – 47.2″ in length. Unfortunately it does not support auto-duplexing, which means for scanning both sides of a page you will have to manually flip over the page.
The Epson Expression ET 2550 supports multi-platform access which allows users to print easily from smart devices, PCs, laptops and mac devices. Our iPad®, iPhone® and Mac OS friends will be happy to learn that the Epson Expression ET 2550 is Airprint enabled.
Epson has truly spent some time with its design approach for the ET 2550. Whether it be the 1.4″ color LCD terminal that allows you to easily configure the device or the multi format memory card slot that provides the user the ability to print without needing a computer.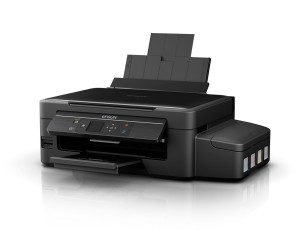 So Gizmo readers, if you are thinking about replacing your printer or looking for a great gift for friends and family, make sure that you think beyond the features for your next purchase. Eco-Amazing Tech like the Epson Expression ET 2550 should be on top of your list.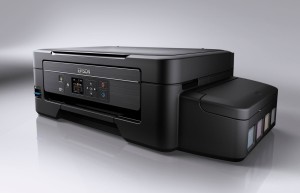 Features and Specifications
Dimensions: Printing: 19.3″ x 20.7″ 11.6″ (W x D x H)
Weight: 10.4 lb
Display: 1.4″ colour display
Ink Type: Four EcoTank™ Ink Bottles (Cyan, Magenta, Yellow, Black)
Printer:

Technology: 4-colour (CMYK) drop-on-demand MicroPiezo® inkjet technology
Print Speed: Black: 9.0 ISO ppm, Colour: 4.5 ISO ppm

Copier:

Maximum Copy Size: 8.5″ x 11″ (PC-free)
Features: Reduce and Enlarge (25 – 400%)
Quantity: 1 – 99 (PC-free)
Quality: Colour/Black-and-White; Draft/Normal
Copy Speed: Black: 7.7 ISO cpm, Colour: 3.7 ISO cpm

Scanner:

Type: Colour flatbed
Features: Scan to PC, Scan to Cloud (including email)1, Memory Device
Optical Resolution: 2400 dpi
Bit Depth: 48-bit colour input / 24-bit colour output

Connectivity: Hi-Speed USB, Wireless (802.11 b/g/n), Wi-Fi Direct
Operating Systems:

Windows®: 10,8, 8.1 (32 bits, 64 bits), 7 (32 bits, 64 bits), Vista® (32 bits, 64 bits), XP® SP3 (32 bits), XP Professional x64
Mac OS® X 10.6 – 10.10.x4

For more information or to acquire the: Epson Expression ET 2550

About Epson Canada
At Epson Canada, our daily mission is to serve our customers by being a:

Leader: A leading manufacturer in the printer, professional imaging, projector, scanner, systems devices, and factory automation categories.
Innovator: Delivering high performance products, services and solutions that exceed our customers' expectations.
Partner: Going the extra mile to build long lasting relationships with our end users, our co-workers, and our accounts.