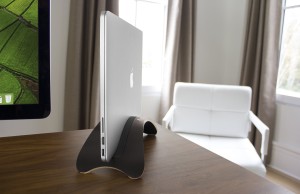 For the ultimate in technology connoisseurs comes the BookArc möd.  Whether at home, in the office or for the home office you can equip your space with high-quality furniture that meets the needs of your workspace and looks simple sensational.
Elegant, high tech, contemporary, this modern, minimalist MacBook stand will transform your desk at home or work into a remarkable functional space.  For many (such as my self) who believe that older furniture has the richness and quality that newer stuff just doesn't quite match our friends at  Twelve South have proven us to be wrong.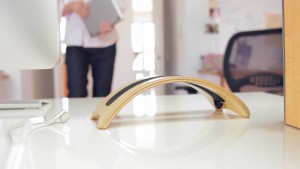 Compatible with MacBook Air, MacBook Pro and MacBook Pro with Retina display the BookArc möd comes in three elegant colors (Walnut, Birch, Espresso). Simply mount your device in closed Clamshell mode and you will be inspired to work by the mid-century modern classic design of the BookArc möd.
The BookArc möd is made out of elegantly crafted hardwood. The integrated cable management system will ensure that those nasty cables are well hidden yet they will not stray far from your Mac.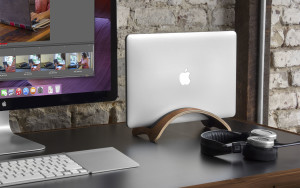 What I love about this device is that it reaffirms that something perfect for technology, can also fit elegantly in any room or any decor.
Features and Specifications
Dimensions: L x W x H 11 x 10.40 x 2.58 inches
Weight: 0.5 pounds (22 kg)
Colors: Walnut, Birch, Espresso
Material: crafted hardwood
Compatibility:

MacBook Air (11 and 13-inch)
MacBook Pro (13 and 15-inch)
MacBook Pro with Retina display (13 and 15-inch)
For more information or to acquire the: BookArc möd
About Twelve South
Twelve South has been designing beautiful accessories exclusively for Apple products since 2009. Our small company, right around twelve employees, develops surprising new ways to protect and personalize your Apple hardware.