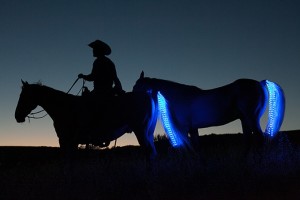 Horse riding has long been recognized as an activity that aesthetically merges people, their animal companions and nature. In addition to the exercise, riders enjoy mountain air and incredible scenery with their friends, family and equine friends.
Surprisingly there are some pretty cool tech devices out there that will help keep our riding community safe and accentuate their next ride.
The Tail Lights Pro Safety System is a high-tech safety system for horse back riders. Every year tragically thousands of horses and their riders are injured or killed as a result of collisions with vehicles.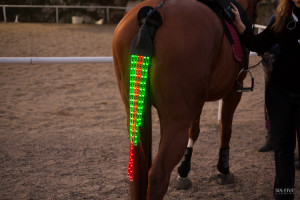 The Tail Lights Pro simply attaches onto a horses breast collar. The rider can turn on the LED lights through the handheld remote. Available in 6 distinct (Red, Blue, Green, Yellow, Pink-Purple, White) colors which also can flash in a variety of color patterns, these lights will ensure that both horse and rider can be seen in day and night. The Tail Lights Pro runs on a rechargeable battery system. The battery life is 23.5 hours, which will ensure you are covered on short and long rides.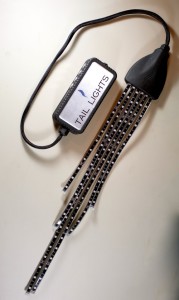 Tail Lights Pro: Features and Specifications
Light type: 6 strands of almost 300 LED lights
Colors: Red, Blue, Green, Yellow, Pink-Purple, White
Color patterns: Red/White/Blue (Patriotic), Green/Red (Christmas) and Blue/White (Winter)
Connectivity: handheld remote
4 levels of brightness

Ultra Low – sensitive horses
Group ride  (Low)  – for the comfort of other horses and riders
Solo (medium)  – bright enough to be seen for over 1/2 mile
Emergency (Highest) – flashing yellow strobe to signal position for rescuers, or to signal caution in any situation

Battery: Rechargeable lithium Ion battery, up to 23.5 hours battery life
Durable
Size: Regular, Wide, Docked
Length of strands – 15, 20, 26 inches
Price: $499.99
For more information or to acquire the: Tail Lights Pro
From our friends at Hoofbeatz Audio™ comes the Rock N Ride® by Hoofbeatz Audio™ This first ever iOS integrated mini speakers, are designed to provide horse back riders a hands free audio listening experience while riding.  Powerful and  portable, rugged and stylish, this Bluetooth speakers can suit any riders needs.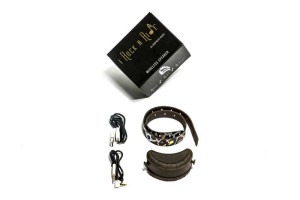 Although the Rock N Ride® by Hoofbeatz Audio™ is not waterproof, it is durable and was designed specifically for the challenges of horse back riders.  Beginning with the saddle connection that allows the direct fitting of the speaker. Simple attach the mini speakers to your (English and Western) saddles. Simply connect this speaker via Bluetooth to your smart phone or music system and listen to your music while on your relaxing ride.
And if by chance you still have to work while on the trails, don't fret. Riders can send or receive phone calls, use iOS (Siri) and Android voice prompts all while on horseback.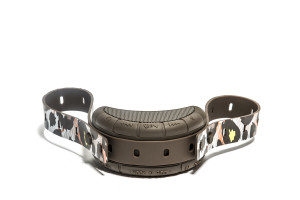 For those interested in the Rock N Ride® by Hoofbeatz Audio™ stay tuned.  It will be released shortly on Kickstarter and will be looking for supporters.
Hoofbeatz Audio™: Features and Specifications
World's first iOS integrated horseback riding speaker.
Bluetooth Connectivity
Rechargeable
Multi-function buttons
Dust & Moisture Resistant
Durable
Price: $129.00 Kickstarter (coming soon)
For more information or to acquire the: Rock N Ride® by Hoofbeatz Audio™