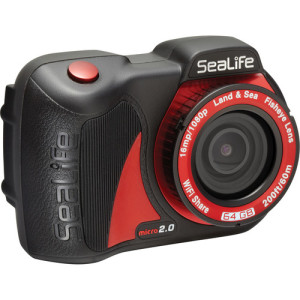 Given the integration of the smart device with camera technology, there have been a lot of interesting takes on redesigning the camera to distinguish itself from its multi-purpose technology cousin.
Our friends at SeaLife have released its newest line of Underwater capturing technology that will take you places your smart phone is scared to consider going.
The SeaLife Micro 2.0 is a Rubber-Armored, Shock-Resistant underwater camera that is waterproof up to 200 feet. In addition to a new SONY® 16MP CMOS image sensor for sharp stills and video, the SeaLife Micro 2.0 features a revolutionary 130° wide angle fish-eye lens with full 1080p HD at 60fps or 1296p at 30fps image quality. What I love about this camera are its time lapse shooting and upside down shooting modes which distinguishes it from much of the players in this space.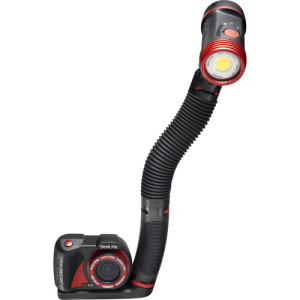 The SeaLife Micro 2.0 camera has a downloadable free SeaLife Micro Cam app that is compatible with iOS and Android devices. The app allows users to transfer video and images seamlessly through a wireless connection from the camera to your smart device. Although you can still transfer images through traditional USB cable or SD card, users now have the option of sharing their experiences instantaneously from land or 200 feet below via the magic of WiFi.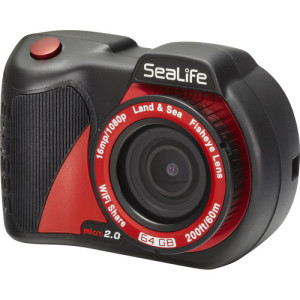 Whether you are a serious scuba diver or an occasional under the sea tourist this camera is perfect for you. I love the quality and unique features of the SeaLife Micro 2.0, I can't wait to get my hands one one.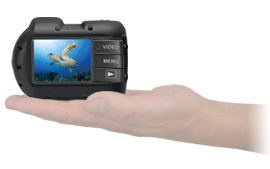 Features and Specifications
Dimensions: 4.2 x 2.1 x 2.9″ / 10.7 x 5.3 x 7.4 cm
Weight: 9.4 oz / 266.5 g
Material: Rubber-Armored, Shock-Resistant Body
16MP/ 2.3″ SONY® CMOS image sensor
Internal memory: 32 GB or 64GB
Connectivity: WiFi, USB cable
130° wide angle fisheye lens
Image quality: Full 1080p HD at 60fps or 1296p at 30fps
SeaLife Micro Cam app: compatible with iOS and Android devices
Display: 2.4" TFT color LCD screen
Three wide "Piano Key": controls – easy to access essential cameras functions
Two shooting modes: time lapse shooting and upside down shooting
Waterproof: Up to 200 feet / 60 m
Fast shutter response
Battery:
Type: Rechargeable Lithium-ion battery (2350 mAh, 3.7 V, 8.7 Wh)
Life: More than 3 hours of continuous use
Shock Resistance: Up to 3.3′ / 1.0 m
File Formats:
Image: JPEG
Video: MPEG-4 / H.264 (MP4)
For more information or to acquire the: SeaLife Micro 2.0 Waterproof camera
About SeaLife
SeaLife underwater cameras, lights and accessories are designed, engineered, made and distributed by Pioneer Research in Moorestown, N.J. SeaLife developed the first non-housed digital underwater camera, and in 2013, SeaLife introduced the powerful Sea Dragon Lighting system with its innovative Flex-Connect tray, grip, arm and accessory system.