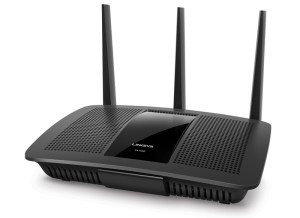 Welcome to CES® 2016. This annual Superbowl for Consumer technologies takes place in Las Vegas every January. Network innovator Linksys® announced this morning a line-up of new MAX-STREAM MU-MIMO networking solutions.
The new Linksys® AC1900 MU-MIMO router (EA7500) leverages the 802.11ac Wave 2 MU-MIMO (Multi-User, Multiple Input, Multiple Output) technology. MU-MIMO is changing the way wireless routers and devices communicate. With the MU-MIMO standard Wi-Fi routers can simultaneously send data to multiple devices.
In addition to making your home network operate faster, MU-MIMO can increase the capacity of the amount of Wi-Fi devices it can handle. As we know, home networking is migrating to the Mu-Mimo standard. An estimated 84% of wireless 5GHz chipsets will be MU-MIMO enabled by 2019.
With 4 networking LAN ports and running on a Qualcomm IPQ 1.4GHz Dual Core Processor engine, our friends at Belkin are hoping to help home consumers address current and future networking requirements with the Linksys® AC1900 MU-MIMO router (EA7500)
The Linksys® AC1900 MU-MIMO router (EA7500) provides consumers with two (600+1300 Mbps) dedicated Wi-Fi bands that deliver combined speeds of up to 1.9 Gbps.
Ideal for the ever connected home, whether gaming, streaming or simply browsing, users can control what they see with the option to prioritize Wi-Fi activites by assigning them to specific bands. The Linksys® AC1900 MU-MIMO router (EA7500) is expected to be available February of this year.
Features and Specifications
Dimensions (LxWxH): 257 x 184 x 56 mm (10.12 x 7.24 x 2.2 in.) without antennas
Weight: 558 g (20.74 oz)
Wi-Fi Technology: AC1900 MU-MIMO Dual-band Gigabit, 600+1300 Mbps
Processor: Qualcomm IPQ 1.4GHz Dual Core Processor
Encryption: 64/128-bit WEP, WPA2 Personal, WPA2 Enterprise
Network Ports: 4 Gigabit Ethernet LAN ports, 1 Gigabit WAN
Ports: USB 3.0, 2.0 ports
Antennas: 3x external, dual-band, detachable antennas
App:

Apps: Linksys Smart Wi-Fi
App compatibility: Available for Android and IoS devices

Smart Wi-Fi app for remote access, control and troubleshooting
MSRP $199.99 USD
Availability planned – February 2016
For more information or to acquire the: Linksys MAX-STREAM AC1900 Dual-Band MU-MIMO GIGABIT ROUTER (EA7500)

About BELKIN INTERNATIONAL
Belkin was founded by CEO, Chet Pipkin, in his parent's garage. Even back then, Chet's passion was driven by solving customer's needs. Today, Belkin International has three brands – Belkin, Linksys and WeMo – to enhance the technology that connects us to the people, activities and experiences we love.