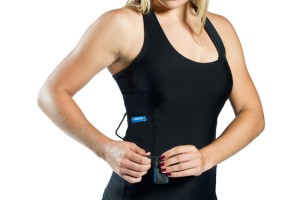 New Gizmo Readers, we are here at #CES2016 searching for the latest in Gadgets that will help you to stay true to your New Years resolution of loosing those extra pounds.  Having seen the success of the Apple watch and Fitbit trackers we have all heard about #Wearable devices. Looking to take Fitness gadgets to the next level and hoping to impact your clothing Hexoskin has introduced the Hexoskin Smart Shirt.
Smart enough to capture your heart rate, breathing and movement, yet light weight enough to feel and act like any other shirt you have, this device is compatible with third party apps (Strava, Runkeeper and Endomondo).  It is a a great alternative to many of those bulky heart rate monitors that are not only uncomfortable but also in some cases not very practical.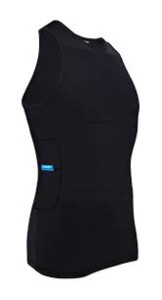 This sensor-embedded smart shirt communicates via Smart technology to any Android and iOS GPS, smartwatch or bike computer. Available for preorder on Indiegogo the Hexoskin Smart Shirt is expected to ship in April of this year.
Features and Specifications
Information Captured: heart rate, breathing, and movement
Communication: Bluetooth Smart technology
Battery Life: 30 hours of use from a single charge, 600+ hours of standalone recording
App :

Price: Free
Mobile Compatibility: Android and iOS
Compatible Apps: Strava, Runkeeper, Endomondo, Runtastic, Polar Beat, Mayp My Run, Argus (and more)
Devices: Tomtom Runner, Suunto Ambit 3, Wahoo RFLKT, Polar A300, Polar M400

Status: Available for preorder now on Indiegogo
Ship Date: April 2016
For more information or to acquire the: Hexoskin Smart Shirt
About Hexoskin
Hexoskin is the world leader in smart clothing for health monitoring. Hexoskin smart shirts are used by NBA players, Cirque du Soleil, and thousands of athletes, trainers, and health professionals all over the world, and provide a new, convenient way to understand human health in real-life environments. In addition to serving its clients in sports science and health research, Hexoskin is a supplier of smart clothing for aerospace and military organizations in many countries, including the United States. For more information, visit hexoskin.com