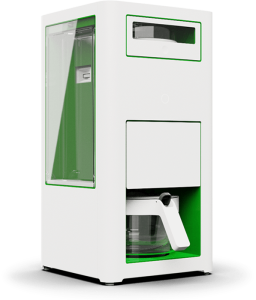 If you want to jazz up your morning cup of coffee, next time forget the milk or sugar. What you need is a spoon full of #IoT. At #CES2016 Bonaverde introduced the worlds first #IoT coffee machine. The Bonaverde Berlin takes consumers through the whole life cycle of brewing the perfect cup of coffee on your kitchen counter. In 15 minutes you coffee transforms beans from the farm into a fresh hot cup of coffee in your cup.
By leveraging Ayla Networks' Internet of Things (IoT) technology, consumers can scan through NFC their pouch of coffee. The beans are then taken through the roasting process, on the top shelf of the machine, combining the time and temperature to intensify the particular qualities (aroma, bouquet, flavor) of each blend Once the flavors have been enhanced, they are extrapolated from the beans via the "Rainshower Brewing Methodology" and extracted in to your cup.
It is wonderful to see the Bonaverde Berlin link  the two end components (ie the consumer with the farmer) with the magic of #IoT technology. According to Hans Stier, CEO of Bonaverde the process enhances the way consumers view and connect to the whole coffee eco-cycle. "We set out to create the world's first roast-grind-brew coffee machine and set up a direct-trade coffee marketplace: a'Coffee Cloud' connecting coffee growers, retailers and consumers online,"
The Bonaverde Berlin will be available in the summer of 2016.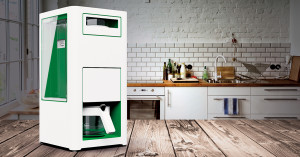 Features and Specifications
Dimensions: Width: 25 cm x Height: 47.5 cm x Depth: 25 cm
Removable Water Tank: 1.2L
NFC ID of each pouch of coffee packaged
Smoke Filter
Adjustable Grinder
Rainshower Brewing Method
Heat-proof glass
Personal Barista with Swipe & Brew
For more information or to acquire the: Bonaverde Berlin