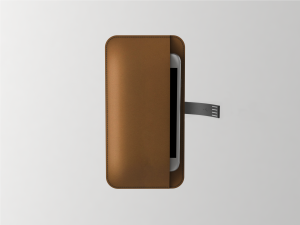 French Technology company De Rigueur is giving Technology a makeover with the release of its futuristic, fashionable charger. The Connected Sleeve is a sophisticatedly, stylish, smart charger that leverages wireless inductive charging to give your mobile device a boost.
Wireless charging uses an electromagnetic field to transfer energy between two objects. With the Connected Sleeve You can charge your phone wirelessly through the magic of Qi power induction. However De Rigueur has put together much more than a simple gadget. Their imaginative designs merge fashion and technology. Design by the Parisian bureau of Elium Studio and made out of elegant hand carved leather the Connected Sleeve is available in 4 distinctive colors.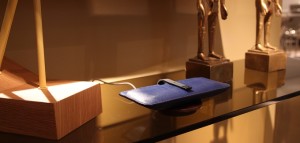 What I love about this device is that it would integrate perfectly with your formal business attire, yet be trendy enough to be worn during your evening out. The Connected Sleeve also has included status LEDs to let you know when it is full or when it needs to be topped up. The Green LED indicates the sleeve is above 90% while the flashing Red LED lets you know that (red alert) you only have 20% left.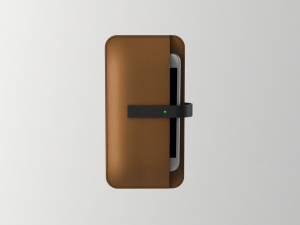 The Connected Sleeve supports many of the latest smartphones and tablets. Just to be safe, before purchasing it, you should confirm whether your phone is on their  Qi compatible smart phone list.
De Rigeur is currently seeking support on its Kickstarter campaign.
Features and Specifications
Dimensions: 7.09 x 3.54 x 0.79 inches / 180 x 90 x 20 mm
Weight: 180g (6,35 oz)
Material: Leather
Colors: Cognac Brown, Petrol Black, Cobalt Blue, Passion Red
Compatibility:
Battery :

Power: 7000 mAh
Charge your phone 2X
Charging the Connected Sleeve: Via USB interface (found in the handle)

Price $99
Status: seeking funding on Kickstarter
Projected delivery date: May 2016
For more information or to acquire the: The Connected Sleeve by De Rigueur
About De Rigueur
We decided to innovate in the beautiful and very traditional industry of French handcrafted leather goods, by combining it with the powerful services provided by the new technologies, in order to become the first House of "Connected Haute Maroquinerie"