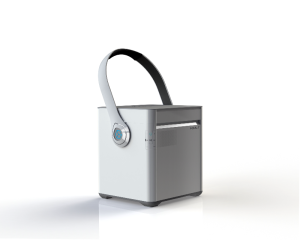 The shift towards greater connectivity, mobility and the use of technology has transformed the way consumers work and play. Miami based Kulr is set to change the traditional bulky legacy cooler with the release of the disruptive, exceptionally designed high-tech Kulr coolers.
This product is simply a coalescence of an exceptionally well designed portable ice container merged with a removable Bluetooth speaker. The end result is a disruptive technology that will have you asking yourself, what you did without the Kulr.
The portable Kulr is constructed out of scratch resistant, ABS plastic, polyurethane foam and  rubber. With its customizable smart storage system, in-built bottle opener, and removable inner container, each Kulr can be configured to meet your specific requirements. The Kulr is IPX6 water resistant which means you can feel confident if it rains and the Kulr gets wet.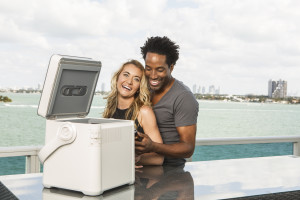 However what makes this portable ice container really cool is the high tech accessories you will find under the hood. The Kulr pairs with all Bluetooth-enabled devices, including all iOS and Android devices. The removable Speaker can be accessed wirelessly via Bluetooth V4.0 or NFC or traditionally via 3.5 mm auxiliary cable. This means you can access the Kulr from a range of up to 30 feet. The inbuilt microphone ensures that you can use it to answer that important call.
In addition to sounding great, Kulr has also designed a device that will look sensational where ever you you place it. This speaker is portable and light enough to be the perfect accessory for your next beach outing.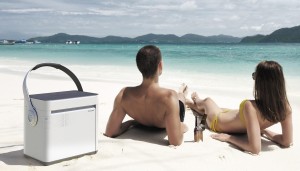 Features and Specifications
Dimensions: 12″ (w) x 13″ (h) x 11″ (d)
Weight: Approximately 8lbs without contents
Color: Initial offering in white.
Material:ABS plastic, polyurethane foam and some rubber parts
Capacity:

Can capacity: Eighteen 12 oz cans plus ice
Beer bottle capacity: Nine long necks plus ice

IPX6 water resistant
Removable inner container (pre-cooling, easy to clean)
Scratch resistant
Handy Bottle Opener with Flashlight
Built-in Power Bank
Echo-cancelling microphone
Removable Bluetooth Speaker

Dimensions: 6.9″ (w) x 2.5″ (h) x 1.5″ (d)
Compatibility: Android & iOS devices
Sound quality: 6W of rich sound
3.7V/3000mAh lithium-ion rechargeable battery
Battery

Battery Life: Up to 12 hours playtime on 50% volume
Battery Charge time 4-5 hours (USB adapter)

Power input: DC5V/1A, USB
Connectivity: Bluetooth V4.0, NFC, 3.5mm aux cable

Status: Kickstarter campaign to be launched March 8, 2016
Price: Kickstarter pre-order pricing will be $185
For more information or to acquire the: Kulr High Tech cooler
About Kulr

Kulr is a new class of personal beverage cooler designed and developed by Miami entrepreneur Dane Jackman. The project will be available for funding and pre-order beginning in spring of 2016. Kulr incorporates a beverage cooler, removable inner container, customizable storage compartment, removable Bluetooth speaker and charging bank for mobile devices. For more information, please visit KulrClub.com