Apple has always designed very elegant but simple devices to accentuate and enhance consumer's hyper-connected electronic devices. However,  there seems to be a need for accessories to be able to support Apple technology.
Take for example the Apple iPad Pro. With a 12.9-inch Retina display, 5.6 million pixels and a rocking A9X (64 bit desktop class) CPU.  This device seems to be perfectly targeted for consumers to be able to create and edit video, presentations and even traditional business (spreadsheet, word processor, database) functionality. However the 713 grams (1.57 pounds) and 8.3 inches (21.1 cm) width by 9.6 inches (24.3 cm) depth make it quite challenging to carry around your iPad Pro for an extended period of time.
Having launched only a few months ago, it is quite challenging to find third-party accessories for the new iPad Pro. Up to the challenge our friends at Twelve South have re-vectored one of their products for the iPad Pro.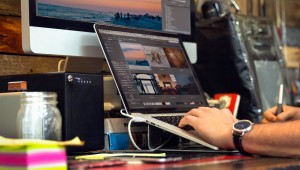 Although originally designed for the MacBook, the ParcSlope is a solid, hybrid, angled, modern desktop stand designed for both MacBook Pro, Air and iPad Pro devices. At 2 pounds and made out of steel with silicone padding at the upper and lower grips to prevent sliding, this device is no flimsy support furnishing. Underneath Twelve South has strategically inserted rubber feet on to the ParcSlope to ensure stability and prevent scratching. The 18 degree angle makes this device ergonomically perfect not only to support your iPad Pro but also to provide relief for your wrists, elbows and arms. For MacBook users, the ParcSlope will elevate your device making it easier to view your screen at eye level.
Behind the ParcSlope is an opening that strategically hides your cables, provides space for cooling circulation and ensures your ports are always available and accessible.
The ParcSlope will be a a perfect accessory for your iPad Pro.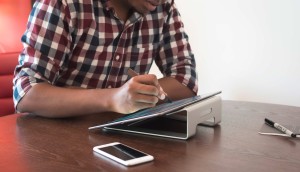 Features and Specifications
Height: 2.8 inches (7.1 cm)
Width: 8.3 inches (21.1 cm)
Depth: 9.6 inches (24.3 cm)
Weight: 2 pounds (.91 kg)
Angle: 18 degrees
Material: Steel
Color: Silver
Device Compatibility:

iPad Pro
MacBook (12-inch)
MacBook Air (11 and 13-inch)
MacBook Pro (13 and 15-inch)
MacBook Pro with Retina display (13 and 15-inch)

Warranty: One year
Availability: available for purchase

For more information or to acquire the: ParcSlope for MacBook
About Twelve South
US based Twelve South has been designing beautiful accessories exclusively for Apple products since 2009.