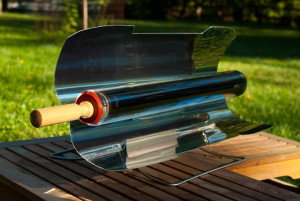 After the thaw of Winter upon, pops up the latest in Spring Gadgets.
Here at New Gizmo Blog we love Gadgets with a conscience. We believe in addition to improving the efficiency of our lives that every gadget can find ways to be a little greener. This spring there is no better way to reduce our carbon footprint than starting with our backyard BBQs.
Founded by renewable energy leader Patrick Sherwin the GoSun Sport Solar Stove is a portable, fuel free, environmentally friendly BBQ or Stove that can be taken almost anywhere. This stove requires no messy charcoal, open flame or messy fuels. Powered by the heat of the sun, the GoSun Sport Solar Stove has the ability to cook a meal in 20 minutes, reaching temperatures over 550°F / 290°C,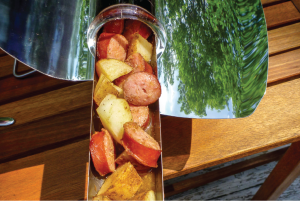 Simply insert your food into the evacuated tube. Watch as the GoSun Sport Solar Stove leverages sunlight and the principles of parabolic reflection to bake, fry and heat your food. The GoSun Sport Solar Stove works in the summer, winter, under sunny or even cloudy skies. The only time you can't use the GoSun Sport Solar Stove is at night.
The vacuum tube is made out of two layers of Borosilicate Glass which ensures that your food will cook on the inside while the outside remains cool to the touch.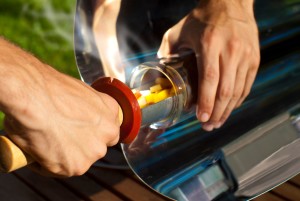 In addition to the cool technology, what I love about the GoSun Sport Stove is that GoSun will plant a new tree for every GoSun Stove sold.
Features and Specifications
Dimensions:

2.7" (7.0cm) outside diameter,
2.1" (5.4cm) inside diameter ,
24" (61cm) length

Oven Volume: : 53oz (1.6L) liquid or up to 3 lbs of food
Weight: 7 lbs (3.18kg)
Material:

Cover – Anodized Aluminum,
Vacuum Tube – Borosilicate Glass,
Tray – Stainless Steel.
Estimated Power Output: : 230 Watts in full sunlight
Maximum Temperature: : 700°F (371°C)
Working Temperature: : 200°F (93°C) – 550°F (288°)
Warranty: Two Year Warranty – The tubes are durable, made of borosilicate  glass (like Pyrex®). If it breaks, we've got you covered.
For more information or to acquire the: GoSun Sport Solar Stove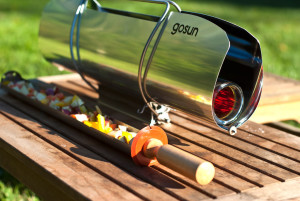 About GoSun
GoSun is a young company made up of a talented team of designers, engineers and change makers with hearts and minds set on serving others. We are passionate about our products and our customers. We want to feed the world, bolster energy independence and social equality.