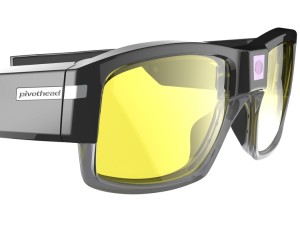 Wearable Head mounted camera displays allow consumers the ability to capture and share video from a birds eye point of view.  Although GoPro seems to have the mind set of the public, there are plenty of alternatives to choose from. The Pivothead Kudu is a High resolution portable action-oriented camera that will record video in a vivid 1080p.
You can capture the exciting events in your life with this Small Wearable Camera. The design of the Pivothead Kudu is more unconventional than its competitors.
Simplicity with performance
This customizable eye wear allows you to control your glasses with the simple touch of a finger.  With it's wireless capabilities.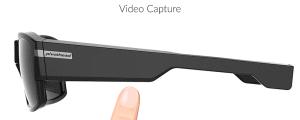 Pivothead has eliminated the need to watch hours of footage or memory cards and handfuls of cords. The Pivothead  SMARTMOD™ design allows you to leverage WIFI to edit and broadcast your footage live to your own channel on Pivot head Live.  I love the auto focus and face tracking capabilities that will ensure that every (even my) video will will be in focus.
In addition to its great video capabilities the Pivothead Kudu has amazing  8 Megapixel Single shot, burst mode and time lapse image taking capabilities.  With 77 degree field-of-view you can get the perfect photo.
Whether you are on Survivor or just at the park, this camera is a great way to capture and share your next adventure.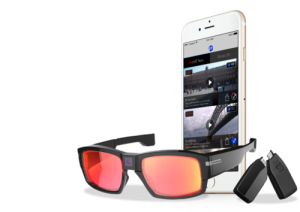 System
Touch gesture control
Memory – Up to 32GB SDHC Micro SD card
3.7V Lithium Polymer rechargeable battery.
Charging – Micro USB, 5V DC 500mA
Data – Micro USB port
Connectivity: Bluetooth 4.0 (Bluetooth Smart), WiFi
Notifications: 3 video/image capture status | 2 alert/eye wear status | 3 broadcast / SMARTMOD status
VIDEO
Standards – NTSC | PAL
NTSC Resolutions – 1080p@30fps | 720p@60/30fps | 480p@60/30fps
PAL Resolutions – 1080p@25fps | 720p@50/25fps | 480p@50/25fps
Mp4 H.264 video file
Focus Modes – Auto (4″-8) | Continuous Auto (4″-8) | Fixed (2.8′-8) | Macro (4″-8″)
Audio – 48 Khz On board Mic
Face Tracking
Time & Date Stamp
Black & White Mode
IMAGE
Resolutions – 8 Megapixel | 5 Megapixel | 3 Megapixel
Single Shot | Burst Mode | Time-Lapse
JPEG file type
Exposure Modes – Auto | Bright Outdoors | Low Light
Fluorescent | Sunny | Hazy | Cloudy | Heavily Overcast | Blue Sky | Outdoor
Face Tracking
Time & Date Stamp
Black & White Mode
OPTICS
77 degree field-of-view
4 Element Largan glass lens
8 megapixel Sony CMOS Sensor (3264 x 2448 pixels)
Shutter: 1/2s to 1/4098s
For more information or to acquire the: Pivothead Kudu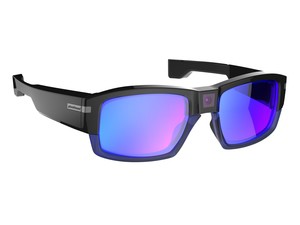 About Pivothead
Pivothead has set the standard for imaging performance, innovation and style in the realm of eye wear embedded cameras.