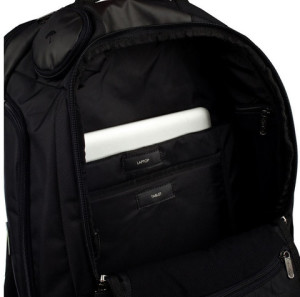 Having traveled extensively I have quickly adjusted my accessories to minimize space and weight and yet maximize my efficiency.The latest of my acquisitions is the Travel Backpack with integrated Suiter from a company called Genius Pack.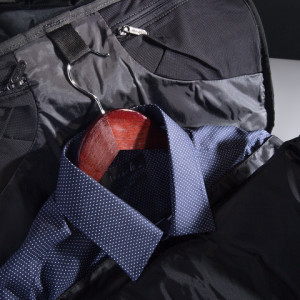 This backpack is the carry on bag that has it all.  Starting with the basics, small, light weight (2.2 lbs), made out of water resistant fabric. This back pack is carry on approved. The interior compartments were designed to store 3 days of clothing comfortably and has a hook which enables you to hang your garments elegantly.  The Travel Backpack also has a space exquisitely designed to support your pop out Micro travel umbrella (a great accessory for London).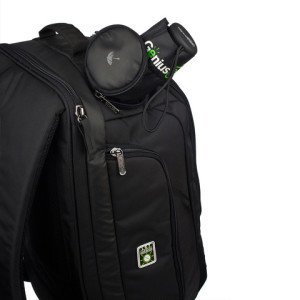 The backpack also have numerous small storage pockets for your keys, glasses, water ballet, pens, business cards and headphones.  The Travel Backpack has a padded compartment that fits laptops up to 16".
However what makes this backpack different than the traditional is the add on tech features that accentuate and elevate this travel gadget.  Starting with the integrated portable power mobile charger.  Powered by a  4500m Ah Lithium Ion battery the charger can provide your smart phone with up to 16 hours of additional battery life.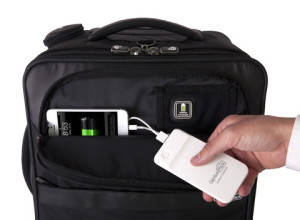 Genius Pack also has a compact light weight mini portable speaker. With a traditional wired aux connection and 6 hours of battery life this durable portable speaker allows you to listen to your music on the go no matter where you are at.  Whether you are camping out at a festival, waiting for your next flight in the airport or simply chilling in your hotel room then a good portable speaker such as this is a must.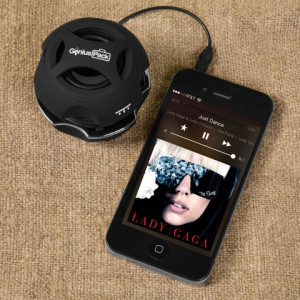 FEATURES 
Backpack
• Dimensions: 20 x 11 x 8 in.
• Capacity: 25 L
• Weight:  2.2 lbs
• Pop out the GP Micro Umbrella from the top panel
• Mesh organization compartments for water bottle, tech accessories.
• Integrated key holder
• Padded adjustable shoulder straps
• Breathable air mesh backside for integrated air-flow
• EVA foam filled comfort grab handle
• Sleek two-tone matte black water resistant fabric
Speaker
• Portable Tunes For Your Journey
• Playback Time Up to 6 hours
Mobile Charger
• Recharge smartphone directly from backpack with the GP Charger
• Exterior access smartphone pocket with audio port
• Battery Life Up to 16 Hours
• 4500mAh Lithium Ion Capacity
• Overcharge Protection Micro Chip
• Weight: Only 2.8 oz
Travel Backpack with integrated Suiter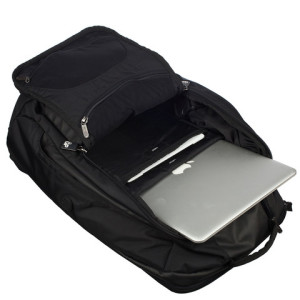 ABOUT GENIUS PACK
Genius Pack is a brand that solely focuses on extreme functionality; travel products that eliminate the hassles of travel. All of our products were created with one common goal in mind, to make the travel experience more convenient, and to eliminate the common nuisances of luggage.