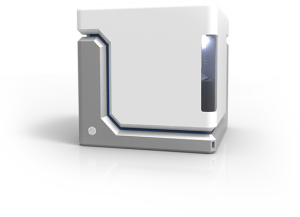 Over the last few years the growth and excitement over 3D printing has been incredible. However from a consumer standpoint although the enthusiasm has been great, actual adaptation has been tempered. This can be directly attributed to two factors, price and ease of use.
The cost of 3D printers unlike its one dimensional cousin is dramatically more expensive. In some cases you may have to invest in the (tens of) thousands on the basic hardware. Additionally the cost of replacement filaments can be also expensive. There are a few lost cost alternatives for 3D printing, however in such cases, the challenge of finding a library of 3D models or kits.
Recently I was made aware of a new Kickstarter campaign that has taken direct aim at the 2 fatal 3D printer flaws. The Anvil 3D printer is a cost effective printer. Currently available at $299 USD (retail $350) the creators of this 3D printer have provided 3D enthusiasts with a simple approach to unleashing their imagination.
Available for a multitude of desktop / laptop (Mac or Windows) and Tablet (Android or IOS) devices the  Anvil App provides users with an easy approach. The easy to use friendly layout allows you to select from pre existing designs in the Anvil Library or create your own through a simplistic Photoshop like interface. The Lego like brick modeling simplifies the entire 3D modeling process.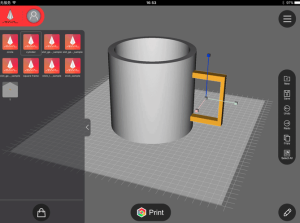 The Anvil 3D printer is available in two spectacular (Gold/Silver, Silver/White) colors and is the size of portable coffee machine. Inserting the Filament cartridge is like inserting your K-cup into your coffee machine. Simply open the side cabinet, slide the filament cartridge into the tray and close.
The Anvil 3D printer is currently available on Kickstarter and is expected to arrive in December 2016.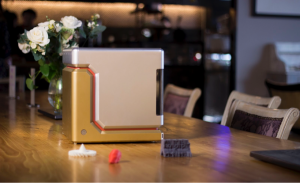 Features and Specifications
Dimensions: 12.3" per side
Print Size: 6.5" x 6.9" x 6.5"
Weight: 4 lbs
Colors: Gold/Silver, Silver/White
Power Consumption: 0.2 kW/h
Connectivity: USB wire and Wifi
Layer Resolution: (ultra fine) 25, (fine) 50, (default) 100, (fast) 200, (fastest) 300 microns
Material: Play (multi-color), PLA (wood) flexible PLA (black); multi-color ABS; PC (White)
Auto Loading Filament
Reusable 3rd party filament cartridge
Remote printing
Share: Save your design on the cloud server
OS: Windows, Mac OS
App OS: Android or IOS
Price: retail $350, available on Kickstarter for $299 USD
Status: Awaiting funding on Kickstarter
Projected Delivery date: December 2016
For more information or to acquire the: Anvil 3D printer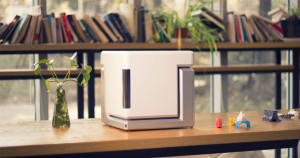 About Anvil Technology Inc
Anvil Technology has set out to change 3D printing by creating a cost affordable, easily accessible positive user-experience.