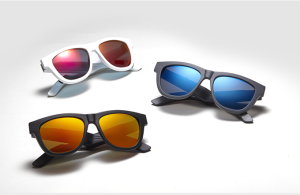 With the heat of summer upon us, looking for the latest gadget to cool things down. I stumbled on this great new Kickstarter campaign that integrates technology vision and sound.
The Zungle Panther are a great pair of sunglasses with built in bone conduction speakers. Available in 5 sensational colors, these sunglasses are made from a light weight Tetron Rayon material. In fact they only weigh 45 grams.
Don't let the size and weight of the Zungle Panther fool you. Compatible with smart phone, tablets and any other Bluetooth enabled devices, this specs can wireless connect. The bone conducting technology pumps up your sound quality in relation to traditional normal earphones. The Zungle Panther also has an built-in noise cancelling microphone which allows you to take phone calls.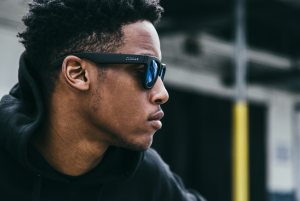 The battery life is quite reasonable. With 4 hours play time, it is just perfect for that morning workout, but may need to be charged for that extended commute to and from work. The lenses are easily swappable with Oakley's Frogskin lenses.
The only downer is that the Zungle Panther is currently seeking funding and won't be available until end of the year.
Features and Specifications
Dimensions L x W x H : 147 x 145 x 52 (mm)
Weight: 45 gram (0.1 lb / 1.5 oz)
Materials: The frame is made of TR(Tetoron Rayon) which is very light and flexible material.
Colors: Frames available in black, white, grey, neon green and neon pink
Connectivity: Bluetooth 4.1
Batteries: 3.7v 300mAh Lithium Polymer, stand-by time 100 hours / play time 4 hours
Charging: via hidden Micro USB 5 pin port
Replaceable Lenses with Oakley's Frogskin lenses (seven different colors)
Compatibility: Any smart device, phone, computer, tablet with Bluetooth
Waterproof: Vendor is targeting to achieve IP4-5 water proof level.
Built in noise-cancelling microphone
Control: via jog dial control for on/off, pairing, volume control etc
Status: Kickstarter funding, delivery eta November 2016
For more information or to acquire the: Zungle Panther, sunglasses with built in bone conduction speakers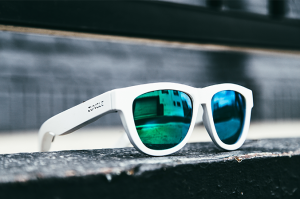 About Zungle
US headquartered Zungle was founded in 2015. Their products are designed in US and manufactured in Korea.