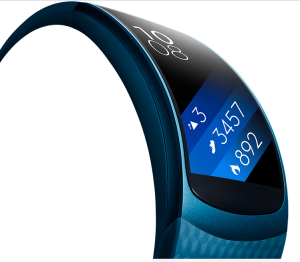 Despite it being a hot and muggy July, I haven't lost my motivation to get outside and lose some additional weight. Perhaps the latest in high tech #Wearables can help push me and you in the right health direction.
Samsung has unveiled the Gear Fit2 GPS Sports Band. Many of you may recall the original Gear fit that hit the market two years ago. The new Gear Fit2 features a 1.5" Touch Curved AMOLED 216 x 432 pixel resolution screen. Available in two distinct sizes. small for wrists 125 mm to 170mm and large for 155 mm to 210 mm wrists the Samsung Gear Fit2 Sports Band comes in black, blue and pink and has an in-built GPS and heart rate monitoring. The Samsung Gear Fit2 Sports Band also has an automatic exercise detection that will know if you are biking, swimming or running and will display the right kind of statistical information automatically. It only makes sense that a smart Sports Band can know what exercise you are doing.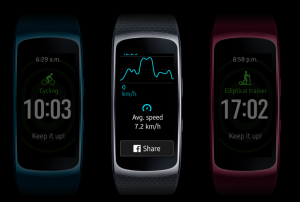 The Samsung Gear Fit2 GPS Sports Band is powered by a Dual core 1GHz Dual processor and comes with 512 MB of Ram and storage of up to 4GB which is perfect to store your music to power your exercise.
The Samsung Gear Fit2 can connect to your smart phone via Bluetooth 4.2 connectivity and has built in text, call answering, email, calendar and other apps to make sure that you can still answer that perfect message while out running about.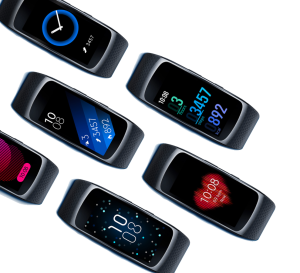 I love that additional features of the Samsung Gear Fit2 GPS Sports Band and look forward to purchasing one. The proof of its effectiveness will be if it can motivate me to increase my exercise regime towards a more healthy lifestyle.
Features and Specifications
Dimensions: 51.22 mmm x 24.5 mm
Sizes: Small (wrists 125 – 170mm), Large (155 – 210 mm)
Weight: Small 28 grams, large 30 grams
Processor: Dual-core (1GHz Dual processor)
Colors: black, blue and pink
Display: 1.5" Touch Curved AMOLED, 216 x 432
Features: Heart-rate monitoring, GPS, On-board music storage, all-day fitness and sleep tracking, and automatic exercise detection
Communication: text, calls, email, apps and calendar
Memory:
Battery:

Battery Type: 200 mAh
Life: Constant usage: 3~4 days, standby time: Up to 5 days
GPS battery time : Up to 9 hours

Compatibility: Android 4.4
Water Resistant: IP68 -depths of 1.5 metres for a maximum of 30 minutes
Key Apps:

Spotify
Transfer fitness data between S Health and other 'select' fitness apps,
Step Goal Challenge
Fitness Widgets
For more information or to acquire the: Samsung Gear Fit2 GPS Sports Band