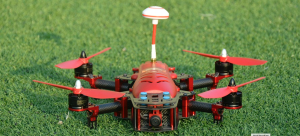 Drones have been one of the hottest markets to hit technology in recent years. Whether it be for law enforcement, infrastructure, scientific research and R&D, environmental studies or personal, drones have hit many sectors.
According to Grand View Research, "the global commercial drone market size was estimated to be USD 552 million in 2014 and is expected to grow at a CAGR of 16.9% over the forecast period".
Beyond the work applications, another area to take off is Drone Racing. Drone racing pairs high speed low flying aerodynamic gadgets with their thrill seeking POV owners in elaborate courses. It combines the elegance of Formula One racing with first point of view broadcast high definition video for racer (and audience alike). What enhances the feel is the live feed video broadcasted to first person view googles.  In July 2015, 120 pilots participated in the first U.S. national drone-racing competition in Sacramento, California.

Looking to jump on this phenomenon, the Makerfire Falcon FPV300 is an easy to assemble and modify mini-quad drone. With an integrated modular design that allows the drone pilot and owner to (future) add and enhance their drone, the Makerfire Falcon FPV300 is ideal for first time racers who are eager to jump into the Drone racing sport.
The Makerfire Falcon FPV300 is available in 4 cool colors and made out of a carbon fiber + plastic casing. This is great because when you buy a racing drone you will will naturally crash many times.
The Makerfire Falcon FPV300 is available for purchase at a very reasonable price on Kickstarter and is expected to ship in September of this year.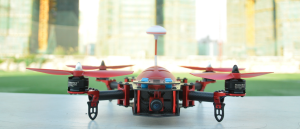 Specifications
Dimensions: 285 (L) mm x 227 (W) mm x 140 (H) mm
Weight: 850 g (including battery)
Material: 3K Carbon Fiber+Plastic casing
Colors: Red/Blue/Black/White
Connectivity: MKF-i6 Remote (600m transmission distance)
Transmission Power: 600mW 5.8GHz
Battery: 3800mAh, 3S, 11.1V, 30C, 290g
Power Indicator: visual display with power lamps on the drone belly
Flight Time: 14 minutes
Sensor: Accelerometer, Digital Compass, Gyroscope, Barometer (Altitude)
Video Resolution: Adjustable CMOS Camera, 700TVL, PAL/NTSC
Features:
GoPro(3/4) and Mobius mounting options
Full-graphic On-screen display (OSD) and control
Beep Alarm
One Key turn On/Off
Optional GPS Return, Hover
Lamplet Indicator
Status: seeking funding on Kickstarter
Availability: September 2016
For more information or to acquire the: Makerfire Falcon FPV300
About Makerfire Technology Co Shenzhen Makefile Technology Co., is specializing in open source hardware and UAV development and manufacturing.