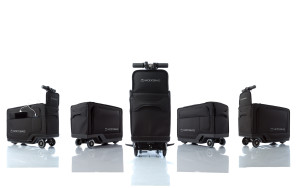 My last flight to London had the unforeseen stop over in Chicago's O'Hare International Airport. To my surprise something as simple as transferring from one gate to another between terminals seemed like a dress rehearsal of the New York City Marathon. That is why I was excited to hear about the recent announcement of the Modobag rideable luggage. At the size of a carry on luggage and able to do 6 Miles (10 km), this bag will make the airport commute truly easy.
The Modobag is the brain child of Industrial design expert Kevin O'Donnell and competitive motorcyclist Boyd Bruner. And watching the commercials it seems that beyond your travel, the
Modobag would be perfect to race your friends around the neighborhood also.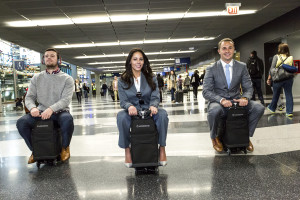 The Modobag rideable luggage is made out of a High Strength Dupont Ballistic Nylon Shell, Lightweight Aluminum Chassis and has high performance urethane wheels. #Iot enabled you can download the Modobag Mobile App and Track your bag. The Modobag also has a built in dual USB port that allows you to charge your smart devices.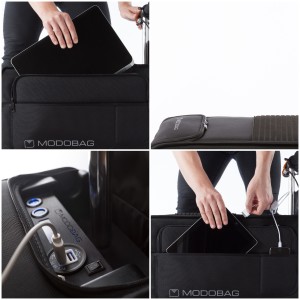 Available on Indiegogo you can expect your a Modobag rideable luggage to arrive early 2017.

Features and Specifications
Dimensions: 22″ Long X 9″ Wide X 14″ Tall
Weight: Bag Weight: 19 lbs
Materials: High Strength US made Dupont Ballistic Nylon Shell, Lightweight Aluminum Chassis
Colors: Black
Motor: Belt Driven, Maintenance-Free, High Torque 150 Watt Electric
Top Speed: 8 mph / 13 km/h
Batteries

Type: UN, TSA, and FAA approved Lightweight (Chargeable) Lithium batteries
Battery Life: over 4,000 full charge cycles
Custom High-Performance Urethane Wheels
Range: over 6 Miles / 10 km (based on 180 lb rider)

Features: Quick Stow Pockets, Dual USB Charging Ports, Illuminated Power & LED Light Controls
App:

Modobag Mobile App
Compatibility: iOS and Android devices
App Features: GPRS-GSM Real-Time Tracking, Proximity Alert

Connectivity: GPRS and GSM
Status: Pre-order (funding) on Indiegogo
Ship Date: January 2017
For more information or to acquire the: Modobag rideable luggage