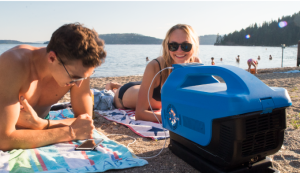 Traditionally referred to as roughing it, the art of camping has been transformed by the latest in high tech devices. Whether it be portable power, auto-assembling tents or compact electronic coffee makers. Campers have transformed the activity of going into the wild from the cave man era to the next generation in IOT evolution.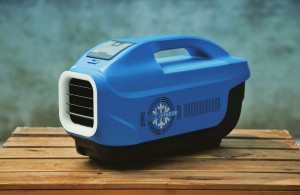 Looking to hit the outdoors but yet maintain the conveniences of home, recently I signed up to purchase the Zero-Breeze. It is a light weight, portable air conditioner that can be taken almost anywhere.
At the size of a vacuum cleaner, Zero-Breeze this cool gadget will chill your days, but heat your nights. With the Blue tooth speaker, LED night light you can jam for up to 30,000 hours of continuous use. The twin USB ports will also charge your mobile devices. Unlike some of the smaller batteries the USB ports can charge some of the larger tablets.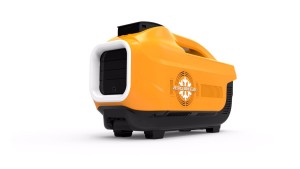 Zero-Breeze is similar to a home AC unit. It comes with an exhaust pipe to filter out hot air and the drain pipe for the condensation. If you're using the Zero Breeze inside a tent, boat, RV or trailer, simply attach the hose and extend the other end outside.
Zero-Breeze is currently seeking funding on Kickstarter. It's estimated delivery date is March 2017
Features and Specifications
Dimensions L x W x H : 18"L x 7.8"W x 11"H
Weight: 14lbs
Cooling Capacity: 1100 BTU/HR
Colors: Cool Orange, Frost Blue
Power

Batteries: Power Bank contains 64 cells of 18650s,  5-Hour Battery
Power Consumption: 140-150 watts of power consumption
Adapter Input: 100-240V / 50-60Hz
Adapter Output: 12V-12.5A

Other: 3 Fan speeds and Cooling settings
For more information or to acquire the: Zero-Breeze
About Zero-Breeeze
California based Zero Breeze is small self-funded company with limited resources