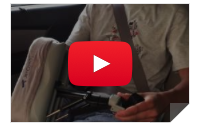 Last year, the global travel market reached US$1.3 trillion.  With the increase in inconveniences caused by air travel (i.e. security line ups, minimum baggage space, costly airfare) there has been a rise in traditional transportation through the car or van. However, ask any parent and they will tell you that the biggest challenge of long distance car travel with a child is the lack of available space in the family vehicle.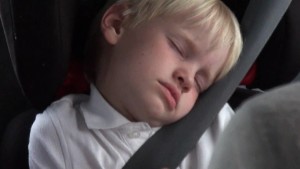 Created by David Brecht and Ephi Zlotnitsky JetComfy is the latest in lightweight ergonomic travel devices. Designed to be used for airplane travel, this device is perfect for land use also. Small (10″ x 6″ x 4″) and light (1.1 pounds) this device can be stored under your seat.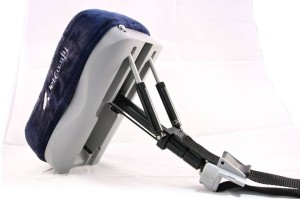 It has a full two inches of ultra soft memory foam available JetComfy comes in grey and blue and the pillow cover can be removed and thrown in the washer to be cleaned.
Gadget friendly, this device comes with a cool 4 in four in one pen, stylus, light and pointer. It also has two rechargeable batteries with built in USB ports so you can safely charge your mobile phone, tablet and speakers.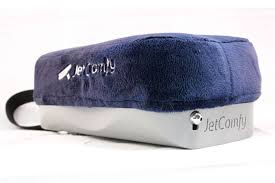 The two extension levers can be adjusted to meet your desired height and tilted so that it sits in the angle that most suits you. Once you have attained the desired height and tilt, lock into place. Jet comfy is a stable platform that will allow you to sleep ad ca support the weight of your head.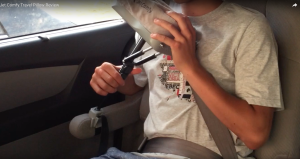 Features and Specifications
Dimensions: 10″ x 6″ x 4″
Weight: 1.1 pounds
Removable pen, stylus, light and pointer
Colors: Grey and Blue
Batteries: Two USB rechargeable batteries
Features:

Four in one pen, stylus, light and pointer
Adjustable height, swivel, and tilt
Ultrasoft, Removable, Washable cover
For more information or to acquire the: JetComfy
About JetComfy
US based JetComfy, LLC strives to provide the highest quality travel pillow at an affordable price