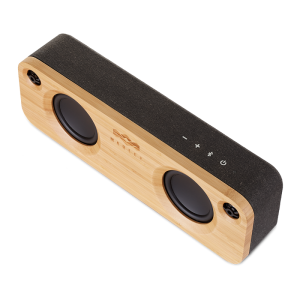 Our friends at the House of Marley have announced three new audio devices  the Voyage BT in-ear headphones, and two Bluetooth speakers, the Riddim BT and the Get Together Mini.
The Get Together Mini is a compact version of the House of Marley's signature Get Together.  At only 11.75″ x 2.85″ x 3.75″ this device is small enough to slip easily into your bag or nap sac but still carries the big sound and bigger eco experience.  Connectivity to the the Get Together Mini is through Bluetooth 4.1 and this device supports legacy interfaces with a 3.5 mm Auxiliary port.
By itself the Get Together Mini has two 1″ tweeters and two 2.5 inch woofers that provide crystal clear sound to accentuate the high tones but yet thump and bump up those low decimals.
For the discerning ears looking for superior midrange detail combined with a sweet and smooth upper tweeter sound, then this speaker provides the optimum in extended range in comparison to speakers of the same target market.  Add to this the up to 10 hours of listening on a single charge, this device will be perfect for any indoor or outdoor event.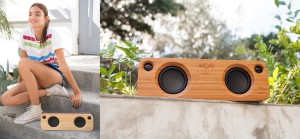 The only thing that is better than listening to one Get Together Mini is the ability to listen to two.  This can be made possible through the magic of Bluetooth 4.1.  The Get Together Mini can seamlessly be paired to other Get Together Mini for a wider range of sound.
As with other House of Marley products, the Get Together Mini is made out of eco friendly Rewind fabric cover and natural bamboo front and back panels.
Features and Specifications
Dimensions: Width (Inches) 11.75 in x Height (Inches) 2.85 in x Depth (Inches) 3.75 in
Weight: 0.3 kg
Colors: Midnight and Signature Black
Connectivity: Bluetooth 4.1, 3.5 mm Auxiliary, USB
Battery Life: Rechargeable lithium-ion, up to 10 hours on a single charge
Features:

Wireless range up to 15 meters
Two 1″ tweeters, two 2.5-inch woofers
Total System Power (Peak) 20 W x 2
Total System Power (RMS) 20 W x 2

App: N/A
For more information or to acquire the: Get Together Mini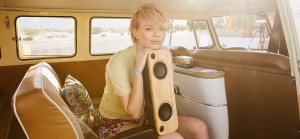 About The House of Marley
The House of Marley audio line is engineered to deliver the Marley "Signature Sound," combining form and function with individual style and core values. Marley headphones and audio systems reproduce your favorite music with smooth, powerful bass, stunningly precise mids and an energized high-end. Built on a rock solid foundation of first in class performance, the House of Marley designs are vehicles for you to enjoy your music, your lyrics and celebrate the soundtrack to your life in a highly personalized and eco-conscious way