#IoT enabled devices have transformed every aspect of our lives. The Roost Smart Battery retrofits, elevates and educates your existing Smoke and Carbon Monoxide alarms.
Looking like an ordinary battery, in reality it is a 9V on steroids that packs in a Wi-Fi antenna and a microphone. With a battery life of approximately 5 years, the Roost Smart Battery allows you to keep an eye on your home smoke and Carbon Monoxide alarms even while you are away.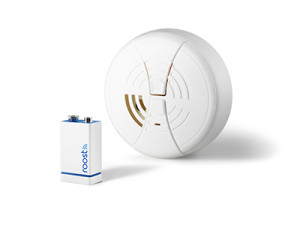 What I love about this device is that it does not require the home owner to upgrade or replace their existing alarms. It is truly a DIY installation in less than 5 minutes and no tools are required. The instructions are easy:
Download Roost App
Via the App, Pair the battery with your phone
Connect the Roost Battery to home Wi-Fi
Insert Battery into Smoke Alarm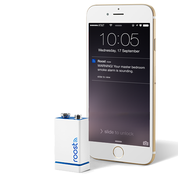 There are some pretty cool common sense features of the Roost.
For example, on your phone you will now get an alert of your battery level instead of having to listen to those annoying chirp notifications.
You can also set up your alarms so that you can crowd monitor your home. Your smart app will send alarm messages to you and your support family and friends. Having elderly parents, I know this is a great feature.
The engineers at  Roost must have been watching my cooking habits. Instead of running to fan you alarms for when you accidental burn something on the stove. The Roost Smart Battery provides you with the ability to silence your smoke alarms with a single tap.
Features and Specifications
Dimensions: 48.3mm, W: 26.3mm, T: 17.3mm.
Weight: 4 oz
Connectivity: Wi-Fi 802.11 (b/g/n)
Batteries:

Lithium Primary Cell (replaceable, not rechargeable)
Battery Last 5X Longer
~5 year battery life

Features:

Remote monitoring of alarm
Activity History
One-touch access to 911 or emergency contacts
Compatibility: Supports all Smoke and CO alarms that use a 9-volt battery

App

Name: THE ROOST APP
Compatibility: Devices utilizing iOS 7 or Android 4.2
For more information or to acquire the: Roost Smart Battery
About Roost

Roost is a real-tech company headquartered in Sunnyvale, CA