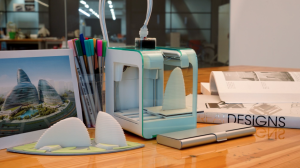 With the Christmas season upon us, I stumbled on the ultimate tech gift. Portable 3D printers are nothing new and there are a number on the open market.  However many of these printers are costly and challenging to use for the novice user.
The PocketMaker 3d printer is a great gift at a very affordable price. Small and light enough to fit in the palm of your hand, don't be fooled by the size of this device. Available for a multitude of desktop / laptop Android, iOS, Windows, Mac devices the PocketMaker App provides users with an easy to use app for beginner users and open source software for advanced users.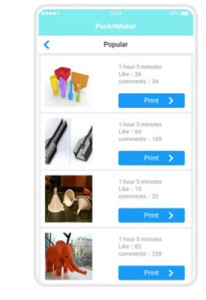 The team at PocketMaker have added some pretty handy features including a removable print bed and replaceable nozzles, so you don't have to worry about cleaning up or residue clogging the nozzle.
The PocketMaker 3d printer utilizes standard 1.75mm PLA, ABS or other standard filaments. For a small printer, it is capable of printing at 0.2mm accuracy via Wireless or wired (USB) connections.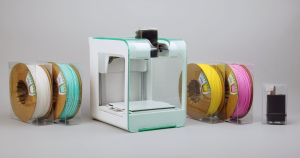 The PocketMaker 3d printer launched a crowdfunding campaign on Indiegogo, and if you back the project now while it's still in the early stages, you can lock down this small portable printer for under $100, the creators expect to start shipping as early as May 2017.
Features and Specifications
Dimensions L x W x H : 80 mm (3.15 in) x 80 mm (3.15 in) x 80 mm (3.15 in)
Weight: 850g (1.87 lb
Material Filament Options: PLA or ABS 1.75mm filament spools
Connectivity: Wireless, USB
Power: country compatible power
Features:

Replaceable nozzle
Removable Print Bed
Supports and uses open source software (for advanced users)

Software: Android, iOS, Windows, Mac
Status: Seeking Indiegogo funding, ETA for backer delivery May 2017
Price: $99 USD
For more information or to acquire the: PocketMaker 3d printer
About PocketMaker
Chinese based PocketMaker designs 3D printers that are affordable and effortless to use