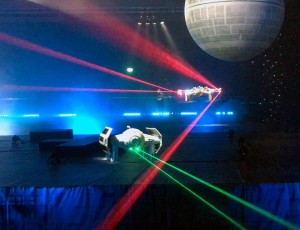 With the release of the Star Wars #Rogue One TV Trailer, comes the reminder that the movie will be out in just over a month.
We are all aware of the long history and strong marriage behind the Star Wars franchise and the associated toys released from the movie.  Whether it be the first wave of action figures ie  R2-D2, Chewbacca, Luke Skywalker, Princess Leia, Obi-Wan Kenobi, Darth Vader, Han Solo, C-3PO, Stormtrooper,Death Squad Commander, Jawa and Sand People or the amusingly entertaining light sabres or the annoying Jar Jar Binks action figure (that is great to feed to your dog ).
And so to coincide with the trailer, we want to remind you of the latest in Star Wars toys that will transport you into the movie. The Propel Star Wars Drones are available for reservation on line. You too now can fly a 74-Z Speeder Bike, Tie Advanced X1, T-65 X-WING Fighter or the Millennium Falcon. Three of four can fly at up to 35 MPH while the  Millennium Falcon can blow by the competition at speeds up to 50 MPH. Our friends at Propel have left no stone unturned by ensuring each item of the collection is well detailed with colors and craftsmanship. The only thing better than owing one of the collection is to purchase two and engage in a multi-drone laster battle.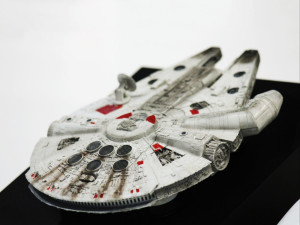 Stay tuned for additional information on the Propel website regarding price and availability.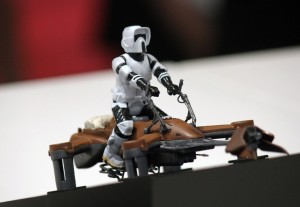 Laser battle game with other Propel™ Star Wars™ battling multicopters
Reverse propulsion blade system achieves speeds of up to 35 MPH
Push button 360 aerial stunts
3 speed settings for beginner to advanced pilots
Laser battle game with other Propel™ Star Wars™ battling multicopters
Reverse propulsion blade system achieves speeds of up to 35 MPH
Push button 360 aerial stunts
3 speed settings for beginner to advanced pilots
Laser battle game with other Propel™ Star Wars™ battling multicopters
Reverse propulsion blade system achieves speeds of up to 35 MPH
Push button 360 aerial stunts
3 speed settings for beginner to advanced pilots
Laser battle game with other Propel™ Star Wars™ battling multicopters
Reverse propulsion blade system achieves speeds of up to 50 MPH
Push button 360 aerial stunts
3 speed settings for beginner to advanced pilots
For more information or to acquire the: Star Wars Flying Drone collection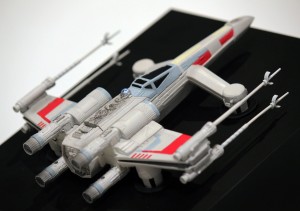 About PROPEL TOYS
Propel is one of the leading manufactures and retailers of remote controlled toys and technology products