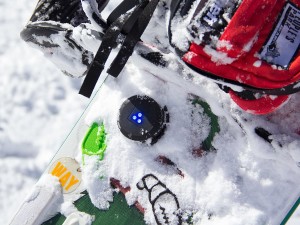 Whether watching football, basketball, baseball or hockey, we are all aware that the latest trend is analytics. Whether keeping track of useful stats (i.e. possession of the puck/ball, completions, interceptions) or useless stats, analytics has become more than a passing fancy.  Professional teams have put together groups within their corporation to gather, analyze and use analytics in selecting, trading and developing players.
So while looking for the ultimate in sports gadgets for Xmas 2017 I was somewhat surprised that analytics has gone into mainstream (amateur) sports.  The Trace Action Sports Tracker allows us to keep track of our stats off the pitch and on the ski slope.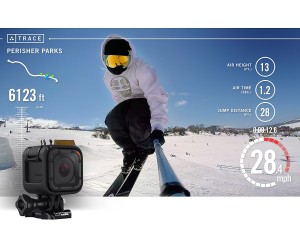 This small (1.8") lightweight (2.4 ounces) sensor attaches directly to your board and tracks your activity. Great for snowboarding in the winter or surfing in the summer the Trace Action Sports Tracker keeps tracks of your metrics. Whether you want to know how fast you have gone, distance travelled or even airtime, this device has it all. Trace also syncs with your POV camera and edits your video to show you only the footage that is worth watching, color correcting video clips to make sure the colors pop, and overlayaying stats on top of the video.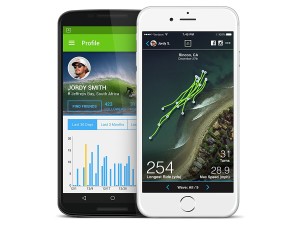 For novices the Trace Action Sports Tracker is very easy to install and use. First you can download the Trace Action Snow App on your smart IoS or Android device. Through the installation process you will pair Trace with your mobile device. Next mount or attach the Trace sensor to your board. Attach a leash tether (for extra security). Press side button to turn it on. Wait for Traceto turn blue. Press the button to start recording. The blinking blue button means Trace is recording. To stop recording simply press the button once again (the blinking will stop).  You can now upload the sessions directly to your mobile device
Trace also allows you to interact with your friends with News Feed and Social integration.  The Trace Snow and Trace Surf apps for free in the Apple App Store and Google Play.
Features and Specifications
Dimensions L x W x H : 4.9 x 4.8 x 1.8 inches
Weight: 2.4 ounces
Colors: Black
Memory: 2GB
Durability:
Connectivity: Bluetooth LE, Bluetooth
Batteries: 7 hours on a single charge
Rechargeable via USB port
Features:

Accelerometer
Gyroscope
Magnetometer
Multi Sports
Interactive GPS Maps
Auto-Edits GoPro
Newsfeeds
Jump Detection
Security:

App:

Trace Snow App
Compatible with iOS an Android devices

Stats:

Maximum Speed
Sustained Speed
Distance
Active Time
Resting Time
Calories
Airtime and Jumps
For more information or to acquire the: Trace Action Sports Tracker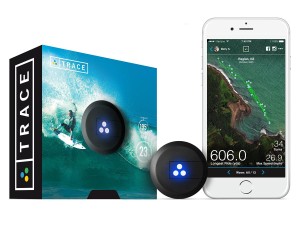 About Trace

Trace didn't come about overnight.
It took four years of grit and sleepless nights to create a product
we believe will change the way people participate in their sport