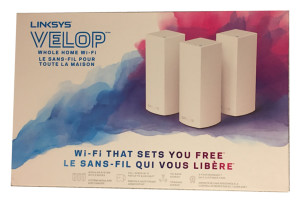 At CES 2017 Linksys has thrown the gauntlet down on Home Wireless networking!
For many consumers, disruptive technology has transformed our lives and has provided a perfect solutions to transform legacy houses to #IoT connected #smart homes. Over the last few years, home networking connectivity has quickly evolved from ethernet to 802.11g to MU-MIMO. This evolution of home technlogy has changed the way people use their connected devices including  interactive gaming, streaming to the desktop and the pool.
At CES 2017 the networking experts at  Linksys  have introduced the next generation in Wireless technology for households. The  Linksys VELOP is the premiere in next generation networking device that seamlessly combines routers and range extenders. Available in 1, 2 and 3 node devices,  Where the single node is typically used for apartments with up to 2,000 square feet.  Two nodes are for small to mid-sized homes up to 4,000 feet.  While three nodes would be ideal for homes of 4,000 to 6000 square feet. The VELOP mesh allows users to set up their own Wireless communications network, extending high speed internet to the corners of your home. For readers with larger homes (aka Drake, Tom Brady, Bill Gates), you can add up to 10 nodes on your VELOP mesh system.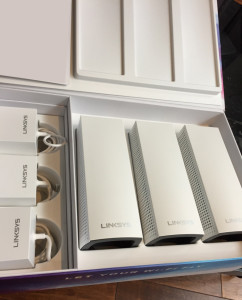 What makes the  Linksys VELOP extraordinarily unique is that you do not need to be a networking expert in order to set up your home wireless mesh. The  Linksys  app automatically identifies the nodes to be set up. You can connect a second and subsequent nodes with a single tap in the app. The Linksys app provides an animated setup guide explaining the entire setup process, including Spotfinder technology for best placement.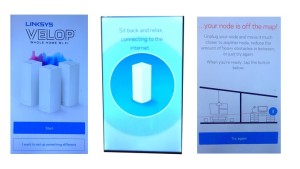 Some wireless extenders will extend the network under a different SSID. This approach can be extremely tedious for your equipment to switch between wireless networks. The designers of the VELOP have addressed this concern by using Seamless Roaming Wi-Fi signals that follow you, so you can move freely throughout your home without dropping the Wi-Fi signal.
I love the little things that Linksys included in the design of the VELOP. Small, esthetically designed and clutter-Free cabling ensures that this device can be placed almost anywhere in your house, and does not look like your typical router. Networking features such as two gigabit ethernet ports, Seamless roaming and device prioritization ensure that you can customize the configuration of the VELOP to serve your needs.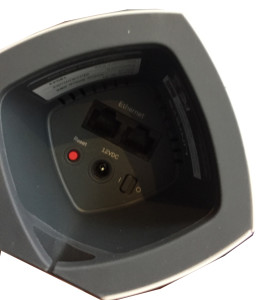 Linksys has raised the bar at CES 2017 and extended the range of Wi-Fi for consumers.
Features and Specifications
Dimensions L x W x H :
Processor: Quad-core ARM Cortex-A7 processor
Storage and Memory: 4GB of flash and 512MB of DDR3 RAM
Nodes: 1-, 2- or 3–"node"
Wireless Features: Three 802.11ac Wave 2 Wi-Fi radios (one 2.4 GHz and two 5 GHz)
Features:

MU-MIMO
Cross-Channel Solution
Beamforming
Intelligent Wi-Fi Mesh Network
Interfaces: Two Gigabit Ethernet ports
Device Prioritization

App: Linksys Smart Wi-Fi app

Compatibility: any iOS or Android smartphone
Connectivity: Bluetooth 4.0/LE
For more information or to acquire the: Linksys VELOP
About Belkin International
Belkin International, creates products that help people realize the power of technology and make people's lives better, easier and more fulfilling. This has been Belkin's mission since our inception in 1983. Today, Belkin International has three brands – Belkin, Linksys and WeMo – to enhance the technology that connects us to the people, activities and experiences we love