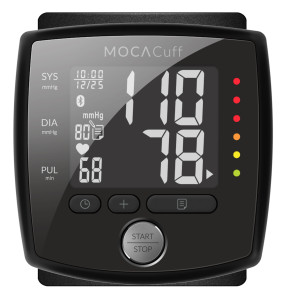 At the 2017 CES two of the most popular technology markets are #Wearable and #Medical gadgets. This is a reflection of the tremendous growth seen in 2016. According to the Kalorama 2016 Market Research, the global wearable medical device market exploded at a CAGR of 18.0% to over $13.2 billion in 2016. In #Wearables, healthcare is among the fastest growing sectors as a result of the increased aging population. The Wearable medical market focuses on four segments: Fitness, Diagnostic Monitoring, Therapeutic and Injury prevention.
Our friends at MOCACARE are leaders in compact diagnostic Wearable Medical technology. In 2016, they unveiled the MOCAheart all in one smart heart tracker. Building on the success of this device they have unveiled the MOCACuff Bluetooth Wrist Blood Pressure Monitor.
The MOCACuff Bluetooth Wrist Blood Pressure Monitor is comfortable, easy to use, has an attractive user interface. Jumping on the advancement of Bluetooth technologies, the MOCACuff provides consumers with an elegant compact monitoring device that enables you to monitor and share your blood pressure information with your medical health professional.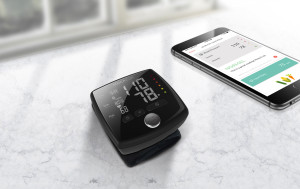 The MOCACuff Bluetooth Wrist Blood Pressure Monitor is very easy to use. Simply slip the MOCACuff on to your wrist, ensuring it is the same height as your heart. Sit down comfortably and place your elbow on the table and your palm turned upwards. Once youhave pressed the start button wait quietly until the MOCACuff Wrist Blood Pressure Monitor lets you know what your pressure and pulse measurements are.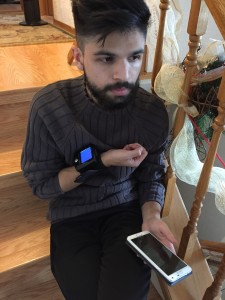 Storing your measurements are as easy as downloading the app on to your smart phone and syncing the measurements between the MOCACuff Blood Pressure Monitor and your smart device via Bluetooth 4.0. Going forward with a single tap of a button, your measurement history is synced (securely) wirelessly to your smartphone. I love that the measurement results are color coded (Red, Orange, Yellow, Green) according to an indicator corresponding to the American Heart Association's (AHA) blood pressure categories.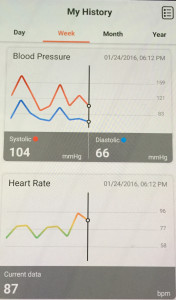 MOCACARE has designed this medical grade technology but ensured that you dont have to be a medical professional to use it.I was really impressed with the ease of use and with ability to track and timeline your medical results seamlessly to your smartphone within the MOCACARE smartphone app. It is very small, lightweight and comes with a wonderful carrying pouch that makes it easy to pack and carry.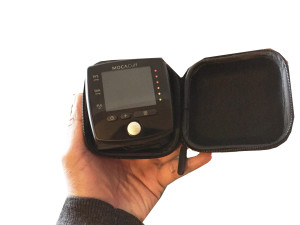 Features and Specifications
Dimensions L x W x H : 2.91 X 2.93 X 1.20 inch
Weight: 97.5g ± 10 g
Display: Liquid Crystal Display
Cuff Size: 135 0 195 mm (5.3 – 7.7 inch)
Connectivity: Bluetooth 4.0 BLE (Bluetooth Low Energy)
Power:

Power Supply: DC 3V, AAA "LR03" (1.5V) Alkaline Battery x 2
Battery Life: Approx. 200 measurements

Features:

Color-coded indicator corresponding to the American Heart Association's (AHA) blood pressure categories
FDA-clearance in the United States
Accuracy: Pressure: +- 3mmHg; Pulse: +- 5% max
Memory: 99 memory for one user

App:

MOCACARE App
Compatibility iOS 8+, Android 4.0.3+
For more information or to acquire the: MOCACuff Bluetooth Wrist Blood Pressure Monitor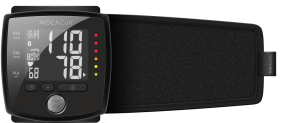 About MOCACARE
Established in 2013 and headquartered in Palo Alto, California, MOCACARE, are driven by a vision to combine health, technology, design, and comfort. Their goal is simple – to make caring for health an easy, intuitive, and reliable experience.